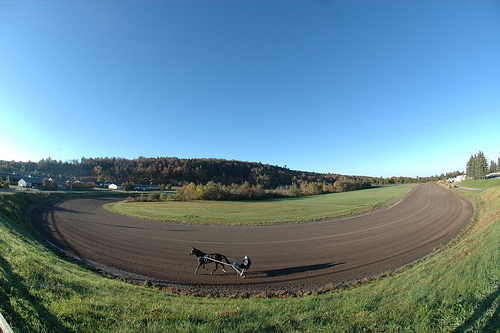 Some people think that persistent spreading contrails are somehow unusual, and are actually something dangerous being deliberately sprayed on the US people by the government, or perhaps for weather control purposes. They call these persistent contrails "chemtrails".
Some of them are very insistent that this is a practically constant assault, saying the sky is never blue any more, and there are "chemtrails" constantly criss-crossing the sky.
I think this is simply a case of observer bias.
It's easy to amass a large collection of photos of persistent contrails. I've got a lot myself, and I live in Los Angeles, where we don't really get very many days when the conditions are right. All you have to do is only take photos on days when there are contrails persisting, and it will seem like there are "chemtrails" every day.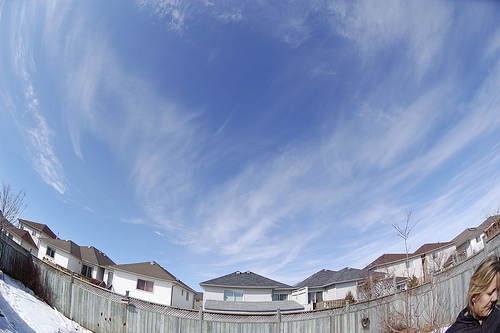 To get a real picture of what is going on, you need to take photos every day, and then see how many have persistent contrails in them. To be really accurate, you should take photos all across the country, and even across the globe, and see how many have contrails in them. What we need is a huge database of photos of the sky taken at random places and times.
Luckily, with the advent of digital photography, we have several such databases in the form of Flickr.com and picasaweb.google.com, and several other sites, which contain millions of photos that have at least some sky in them.
How many contain contrails (persistent or otherwise?) well, it turns out that practically none of them do.
Of course if you search for "contrail" or "chemtrail", you'll find a bunch. But that's just you selecting them. How do we get random photos of the sky?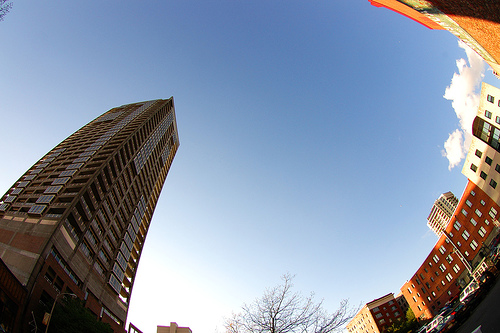 A good way it to search for things where the photographer is looking up. Like, "skyscraper", "radio tower", "kites", or "skyline". This gives you a very nice random sampling of millions of photos of the sky in all different weather condition, in all different locations, over the past decade or so. Some of these tend to have a narrow field of view, which you can expand with the keyword "fisheye", like "fisheye sky".
And what do we find? ALMOST NO CONTRAILS!!! I had to look at hundreds of photos before I finally found ONE that had a contrail in it. Even more rare was finding a photo with several persisting contrails, and I never found one with anything like a "grid".
Several things can be deduced from this. Firstly contrails are actually pretty rare across the country. Of course this depends on where you live, but basically on average, there are not that many visible contrails in the sky.
Secondly, there's still lots of clear blue sky and fluffy white clouds. All kinds of skies actually. Nothing has changed.
Thirdly, "chemtrail" theorists often say "why are there no photo of contrails before 1999/1990/1980/whenever", seeing as they can't find any in their family photo albums. The answer is of course that there ARE photos of contrails, all through the history of aviation. You don't see them in the old photo albums for the same reason you don't see them on Flickr.