Contrails are long thin clouds of ice crystals that form behind planes that fly through freezing cold air. Usually, you see them behind jets at around 30,000 feet.  If the air they fly though has enough moisture in it already, then these contrail clouds can last for a long time before they evaporate.  Sometimes you get a lot of them at once in the sky, if the weather is right. They look like this: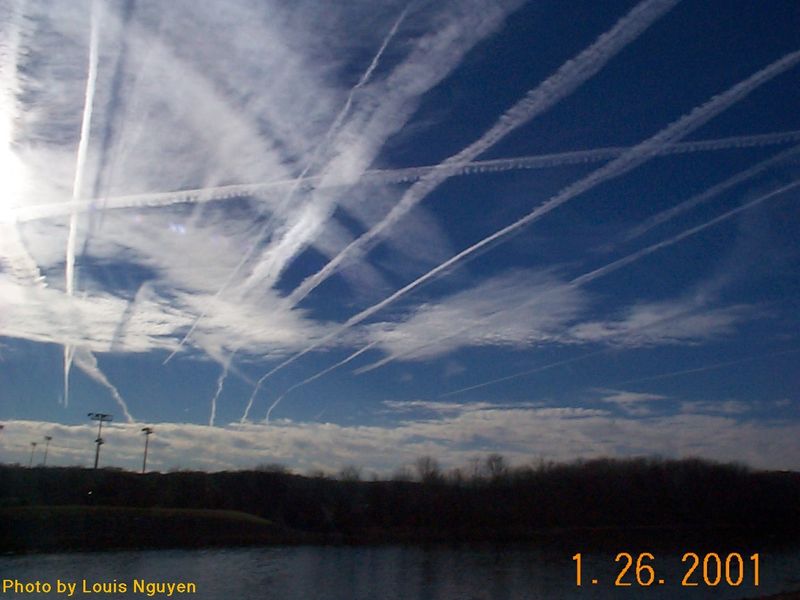 Note: the trails in the above photo ARE CONTRAILS (and some natural clouds).  That's a photo taken by NASA scientist Louis Nguyen from I-95 in northern Virginia, January 26, 2001.    This is the only photo of contrails in this article.  The remaining photos are NOT contrails.
There are several things that a superficially somewhat similar, in that they involve stuff coming out of the back of an airplane and/or lines in the sky.  But these things are not contrails.
SKYWRITING
Skywriting is making patterns in the sky using smoke trails.  Done at a low altitude using small planes, it can look very like a contrail, but it's very different as skywriting is made from smoke (made from injecting oil into the hot exhaust), and contrails are made from ice crystals.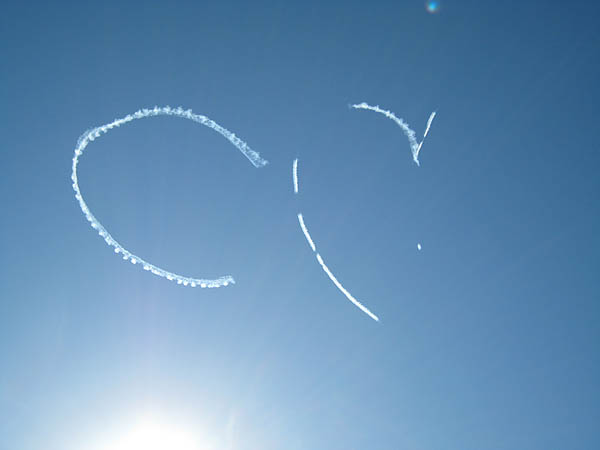 SKYTYPING
Also known as "Dot Matrix Sky Writing", See:
http://www.geicoskytypers.com/
Skytyping utilizes five airplanes that fly abreast, 250-feet apart and "type" up to 25-30 character messages in a dot-matrix-like pattern. Skytyping is 17 times faster than skywriting, laying out a letter every 4 seconds. During skytyping aerial exhibitions, the pilots fly their aircraft in a line-abreast formation while a computer in the lead plane sends radio signals to the smoke systems in each plane in the formation, thus creating a customized message in a dot-matrix pattern of environmentally safe puffs of smoke.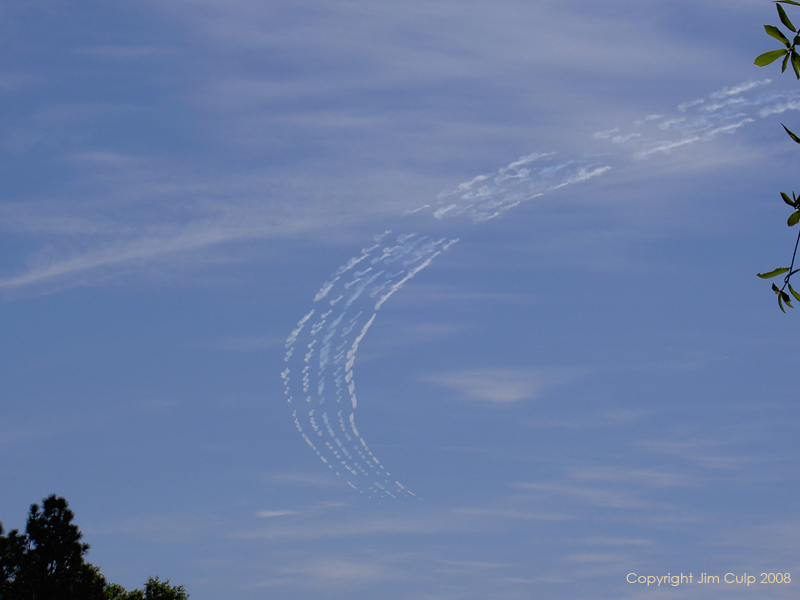 In the above photo, the trails have been blurred by the wind, but you can kind of make out letters in the section to the right.
AEROBATIC SMOKE TRAILS
Rather similar to skywriting, smoke trails are used to enhance exhibitions of aerobatics, often with different colored trails.  These are the Red Arrows, in the UK.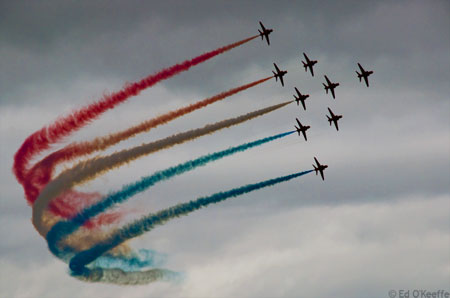 Even gliders can perform aerobatics, and they often have wingtip smoke generators to show this off: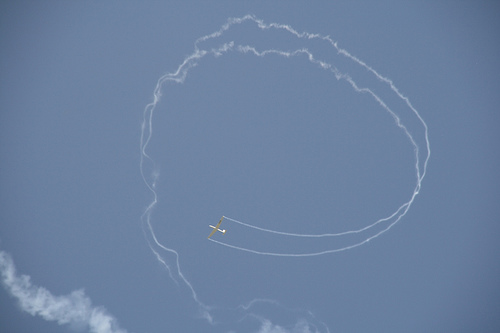 CROP DUSTING
More technically called "Aerial Application", this involves spraying crops or agricultural areas with fertilizers, pesticides, fungicides, or defoliants, for a variety of reasons.  Typically done with small planes or helicopters just a few tens of feet above the crop, like this: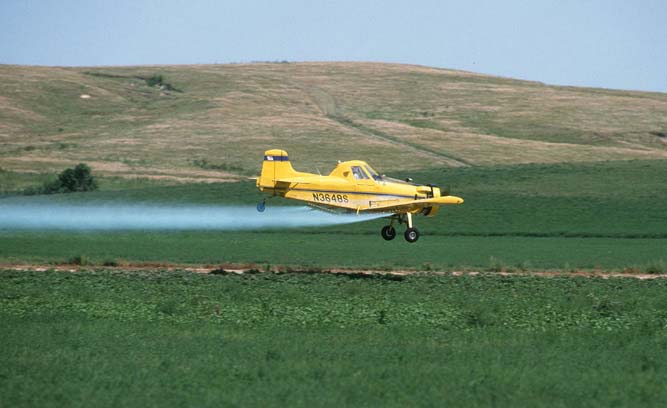 PEST SPRAYING
Sometimes larger areas that a few fields are sprayed for things like mosquito control.  Larger planes can be used, but they still have to spray very close to the ground.  Here's a C-130 spraying a few hundred feet up: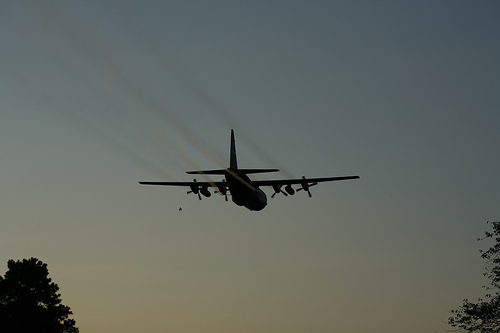 RESEARCH SMOKE TRAILS
Sometimes planes have smoke emitters placed on them for research purposes – generally visualize the flow of air behind the plane, the vortices, or "wake turbulence" which can be dangerous to other planes.  Here's one example: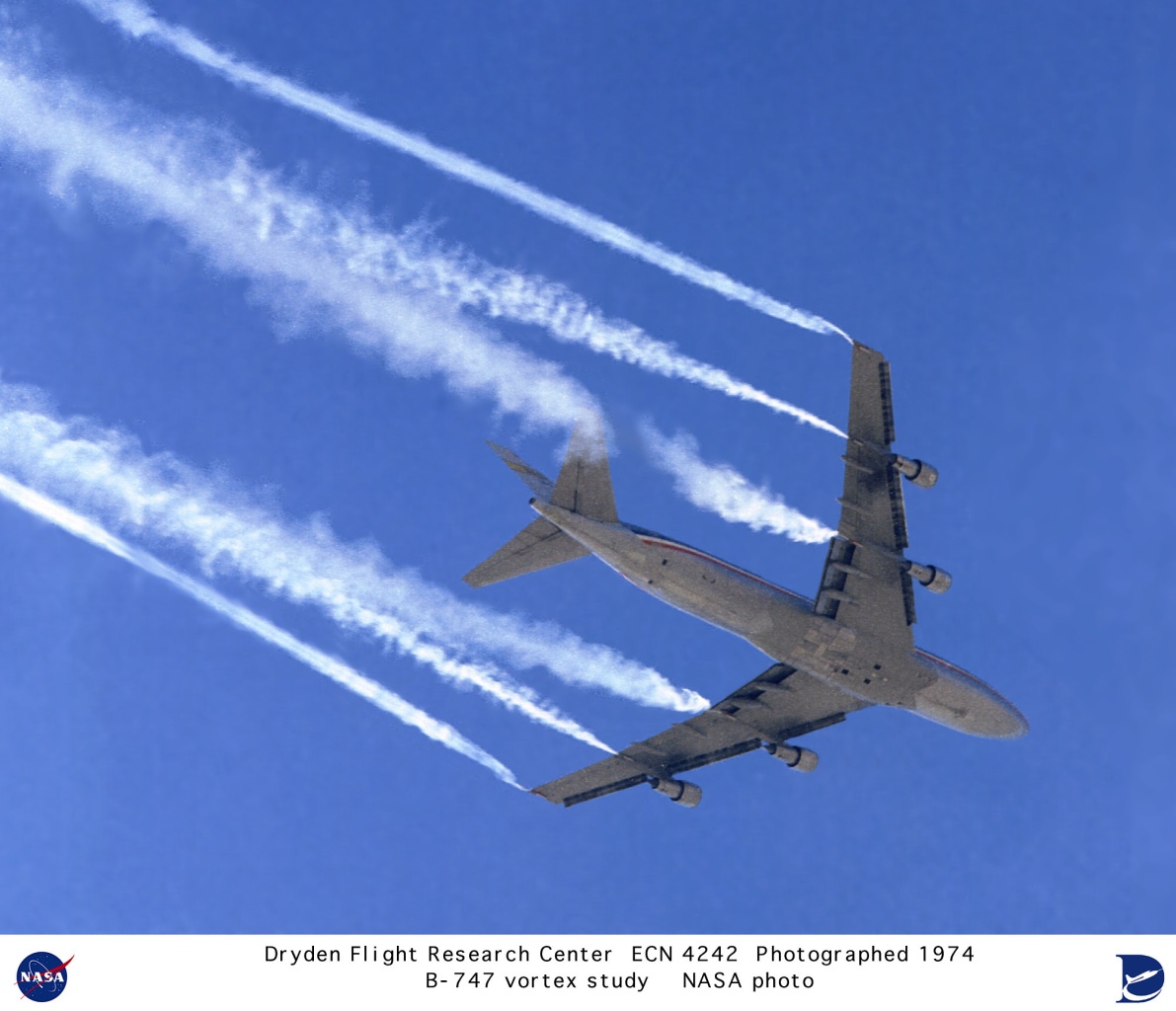 http://www.dfrc.nasa.gov/Gallery/Photo/B-747/HTML/ECN-4242.html
CLOUD STREETS
Atmospheric conditions can make clouds form in odd ways.  These unusual stratocumulus clouds called "cloud streets" formed over the Sea of Okhotsk, Northern Japan, on June 18th, 2007.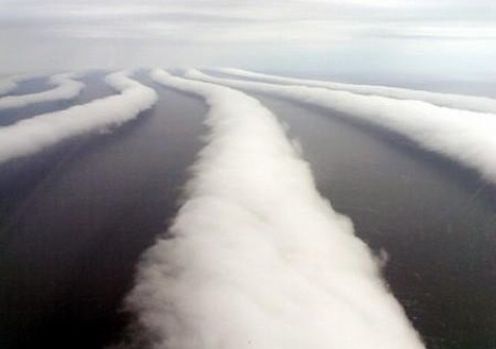 Here's a satellite photo of the region showing these clouds: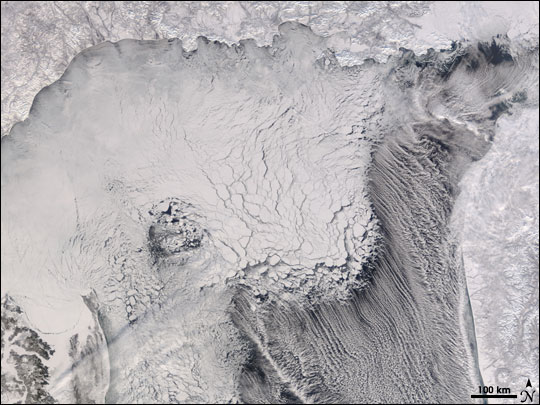 More info here:
http://www.meteorologynews.com/2009/10/29/cloud-streets-photographed-over-gulf-of-mexico/
CLOUD SEEDING
People try to make clouds produce more rain by "Seeding" them with tiny particles of things like silver iodine.  This is done using incendiary devices attached to the aircraft.  Basically, flares that are burnt one at a time.  Here's what they look like in action.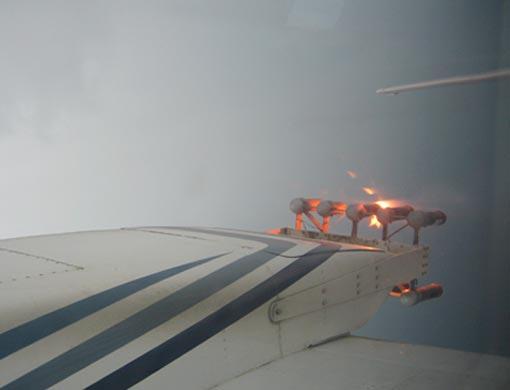 Long shots of clouds seeding are hard to come by because it happens inside or above the cloud.   If you see a long trail coming from behind a plane, then it's not cloud seeding.  The trail is very thin, and probably not noticeable from the ground, even if you could see the plane.
FIRE FIGHTING
Planes are often used in fighting fires, and typically drop fire retardant from a low altitude.  Often it's bright red, but sometimes it's just water pulled from a nearby lake.  This one is in Missoula, Montana.  Note it's a fairly low altitude, probably 1000 feet or so.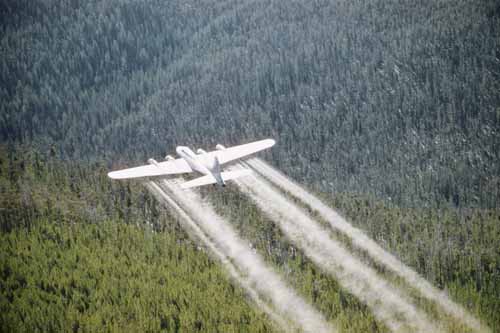 FUEL DUMPING
When a plane takes off they are usually full of fuel.  At this point, they are too heavy to safely land (it's a lot easier on a plane to take off than to land).  If they have to cut their trip short, then they have to get rid of that excess weight.  They can just fly around for hours to burn it off, but some planes have a fuel dump system that lets them get rid of the excess fuel rapidly by just dumping it into the air.  This is often from vents at the end of the wing, but sometimes it's mid-wing, or at the tail.
This is a Navy E-6B Mercury (TACAMO), dumping fuel from its mid-wing vents.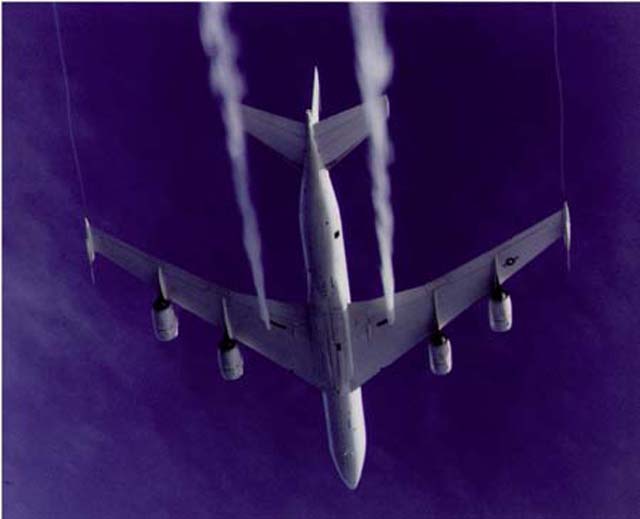 Here's a rare set of shots from the ground of a jet dumping fuel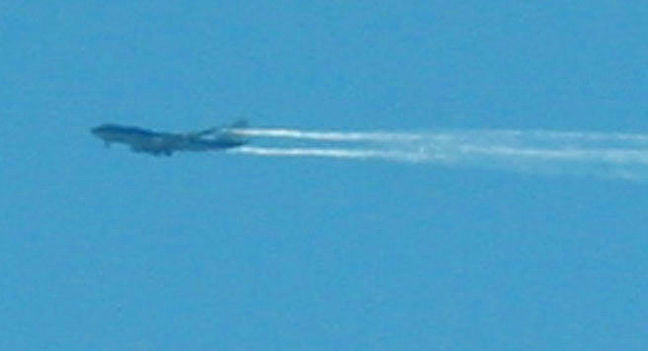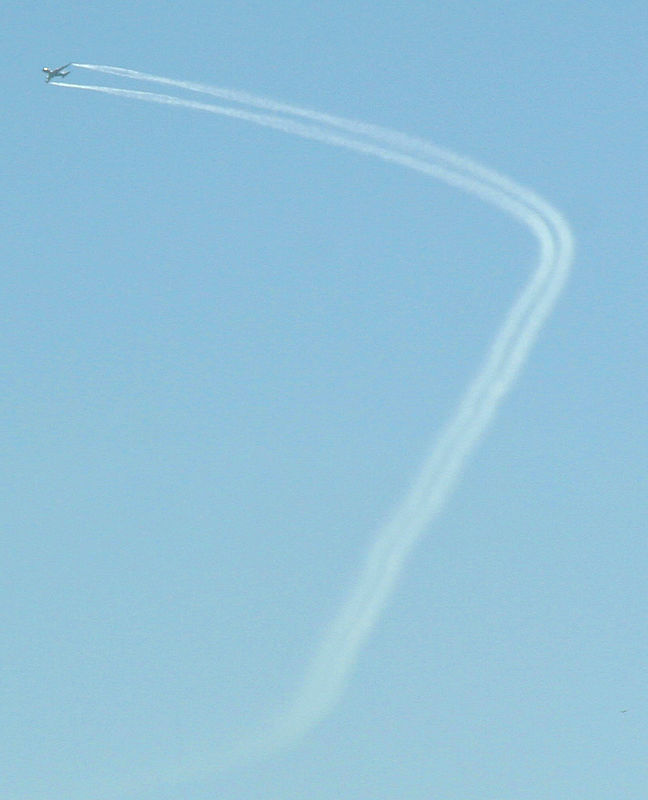 Note the difference between this and a contrail.  You can see it's coming from the wingtips, and you can see the trails just kind of blur out as it spreads and evaporates, unlike contrails which have much more well-defined edges, even as they fade away.  See here for the full story behind this incident:
http://www.airliners.net/aviation-forums/general_aviation/read.main/3523366/
The aircraft, of of KLM's B744 full passenger versions, registered PH-BFG, took off from SFO and somewhere around Sacramento the crew decided to turn back to SFO because the nosewheel wouldn't retract.
See also:
http://www.modbee.com/local/story/34136.html
And a cool video:
http://www.youtube.com/watch?v=uoUBWEqPu0Q
GLIDER BALLAST DUMPING
Gliders use water for ballast, and they sometimes let some out to reduce their descent rate, usually when landing.  It looks similar to fuel dumping.  Here's a nice example: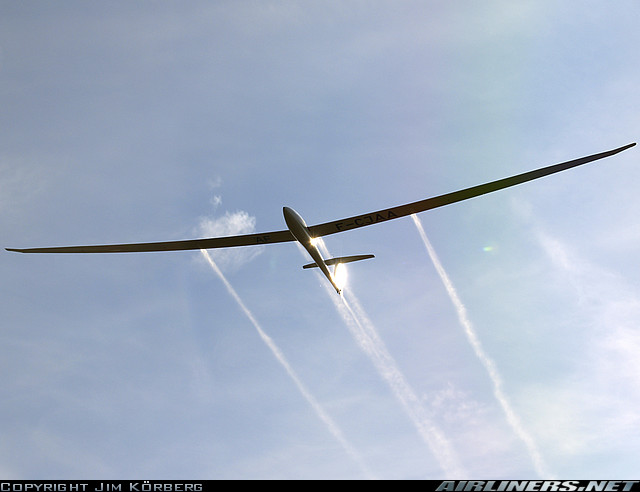 ROCKET TRAILS
Most rockets can produce a kind of contrail as the combustion of the fuel (especially if they are hydrogen+oxygen fueled) will produce a lot of water.  But for many rockets there is also a lot of visible smoke.  It's not always visually clear what is smoke, and what is water. When they get very high up, the trail spreads out and is lit by the sun in unusual ways.  You see this a lot with the missile tests in California.  You could call this a contrail if you wanted, so long as you note it's a rocket contrail, and so probably contains smoke.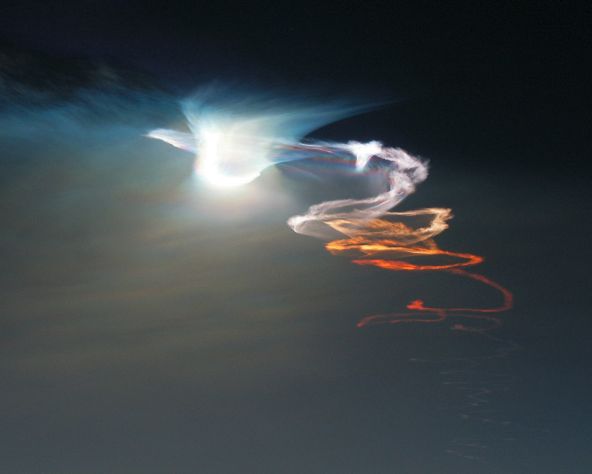 SHIP TRAILS
Generally seen best from space, large ships can create a trail in the atmosphere above it that resembles a contrail.  These are off the coast of France.  They are generally more squiggly than contrails, as the ships move much slower, so the trail is at the mercy of the wind to a greater degree.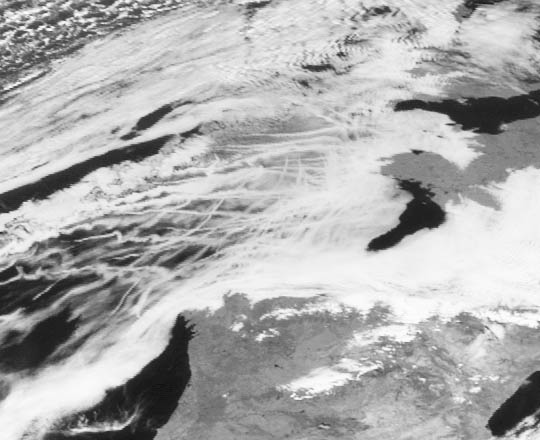 FLARES
Military planes shoot out flares to confuse heat-seeking missiles.  These are very bright and leave smoke trails.  Usually, they shoot off in all different directions, like this: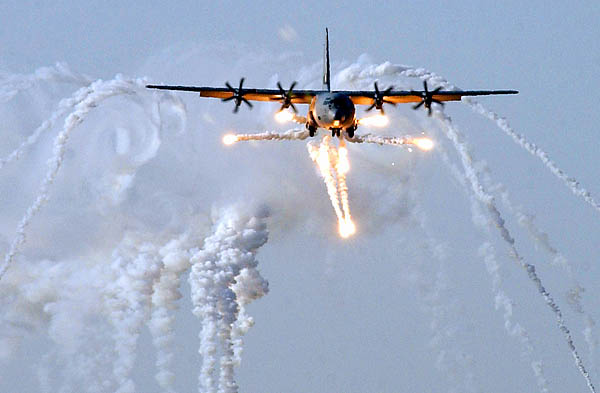 CHAFF
Chaff is a substance that planes spray to confuse radar.  Generally it thin fibers, coated with aluminum.  I could not find ANY photos of chaff being sprayed, despite it being used since the 1940s.  This is probably because it just looks like fine dust.  It does not leave a trail (it would be rather pointless to defeat the radar, but then have a big line pointing to where you are).  It's only visible to radar.
GUN SMOKE
This photo I originally thought was chaff, as that was how it was labeled, but then someone pointed out it was actually smoke from the guns firing. Not chaff, but not a contrail either. There are a variety of reasons why smoke can be coming from an airplane.