Contrails form when the water in engine exhaust mixes with cold moist air and freezes. Normally you see this at 30,000 feet with jet engine exhaust. But in some parts of the world, these conditions can be found at ground level. Here's a car leaving a contrail in Whitehorse, Canada.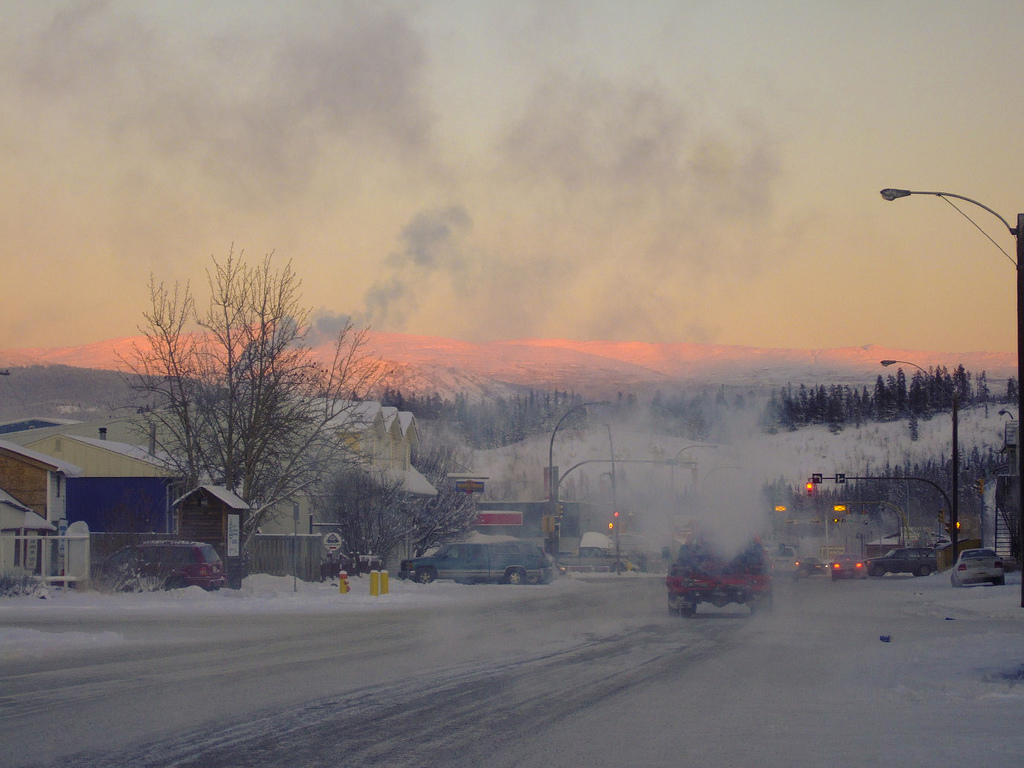 (Photo by Yukon White Light, original here)
Over time these contrails can spread out to form a haze that covers the area.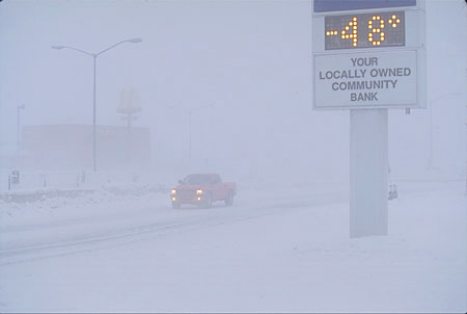 From a distance this ice fog (Seen here in Fairbanks, Alaska) can look just a like layer of cloud or mist: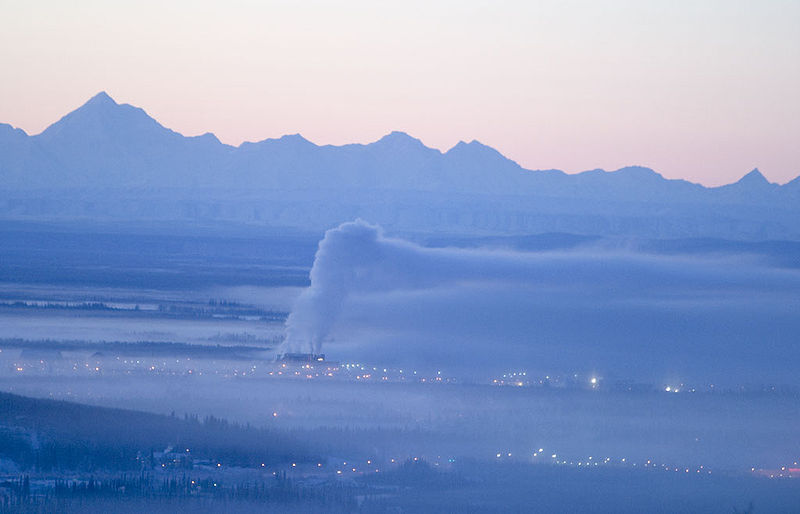 Here the individual car contrails quickly merge into a single sheet due to their small size and large number.  A jumbo jet obviously creates a much bigger contrail, something more like the building in the middle of the above photo.   That's why you get the more distinct white lines in the sky.  And of course, at around 30,000 feet, it's much more likely to be 40 below than it is at ground level – except for Alaska in the winter.
At the South Pole, they regularly have contrails at ground level: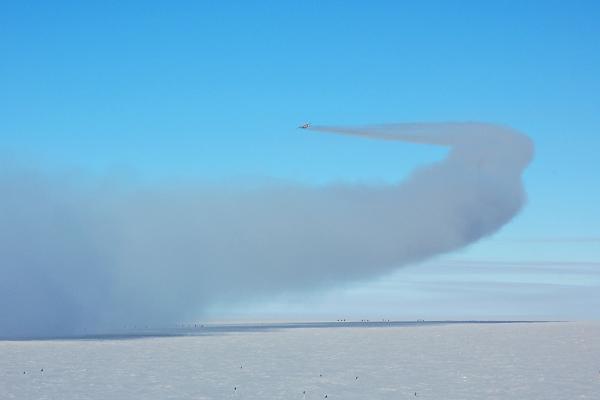 Here's an article from 1957 describing how these ground level contrails can persist and spread – just like contrails at high altitude: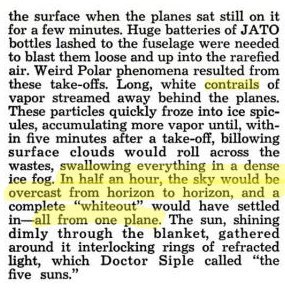 [Update 2010-4-26]
See also:
http://orsovolante.blogspot.com/2010/04/ma-come-fanno.html#googtrans/it/en
Which discusses several photos from this photographer:
http://www.airliners.net/search/photo.search?photographersearch=ivandalavia
Like: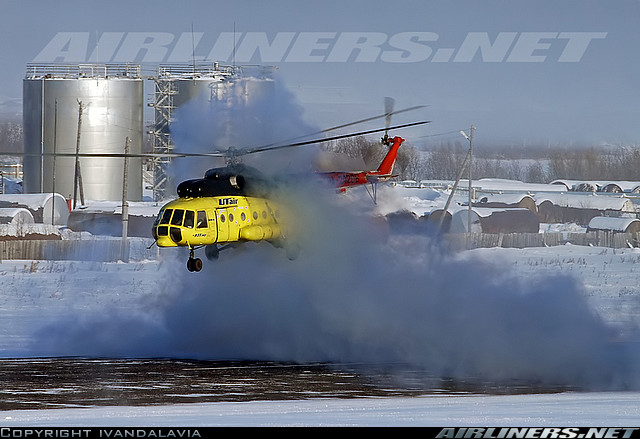 Taken in Russia, where there are many places the temperature drops below -40 degrees. Note this is a helicopter, not normally something you'd see leaving a contrail as they don't go high enough. But when contrail conditions go all the way to the ground, then pretty much anything can leave a contrail
http://www.airliners.net/photo/Canadian-North/Boeing-737-2T2C-Adv/1603242/L/&sid=f90df0296071cd22b3c7ab3f5fc540ca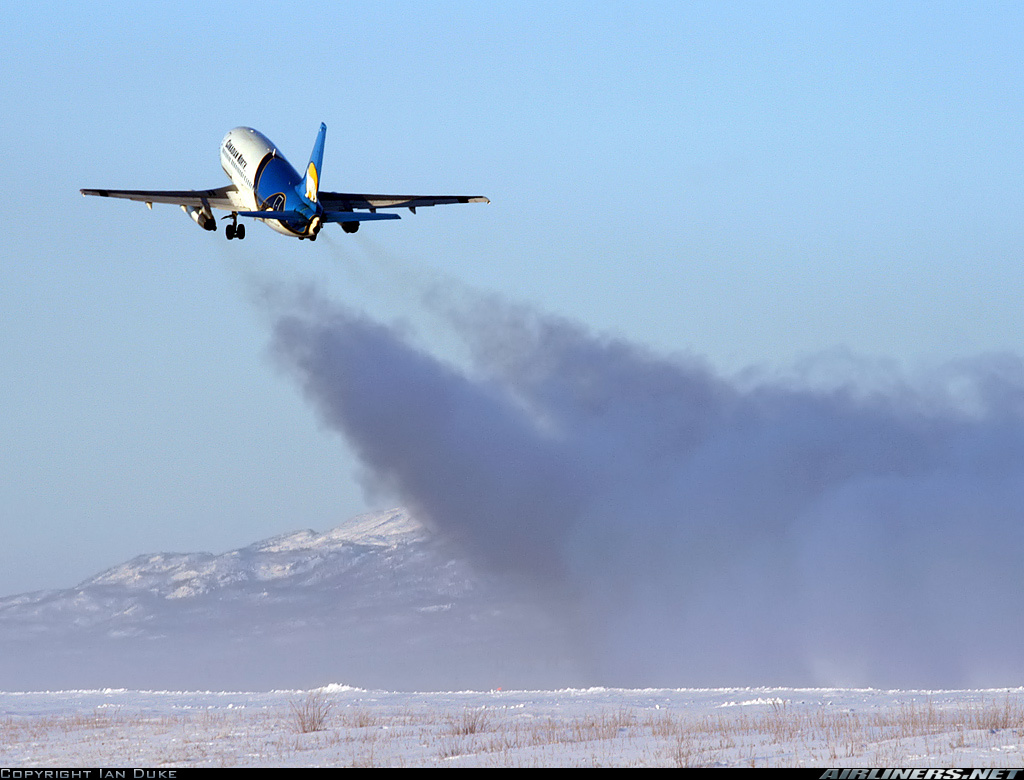 Here's an account from the South Pole:
http://books.google.com/books?id=ldFt-OquDAUC&lpg=PA45&dq=contrails&pg=PA45#v=onepage&q&f=false