One very popular photo amongst the "chemtrail" theorists is this one from NASA:
The image is quite striking, showing a very large number of contrails over an area five hundred miles wide. It's an infrared image which has been enhanced specifically to bring out the contrails. This image has been used by NASA a few times:
http://www.nasa.gov/centers/langley/news/releases/2004/04-140.html
http://earthobservatory.nasa.gov/IOTD/view.php?id=4435
http://mynasadata.larc.nasa.gov/lesson-plans/?page_id=474?&passid=83
It's actually a small part of a much larger image. It was cropped and enhanced to just show the areas of contrail activity. Here's the full image:
You can already start to see that the contrails are confined to a band of cloud, they stop abruptly where the clouds also stop. It's a bit less dramatic in the original infra-red image. You get an even better view of the overall situation in the true-color satellite photo:
Looks a lot less dramatic now. But still, it's an unusually large amount of persistent contrails. Something you only get with some rather specific weather conditions. Of course, you get conditions like this every day, somewhere in the US. It's just unusual to have such a wide area.
The above image is available at full 250m/pixel resolution. It's a 17MB jpg file, here. Quite a spectacular image, with some dramatic "grids" when you zoom in.
We can tell which way the wind is blowing for a particular cloud by seeing what streaks it leaves behind. This is particularly true for ice clouds – as the older crystals grow large enough they precipitate out and sink to air that is generally slower moving (wind speeds generally increase at you get higher, and decrease as you get lower). This is also what produces the distinctive Cirrus Uncinus clouds, which are basically the same thing, except they are from smaller individual clouds, not a long thin cloud.
We can see this pattern of wind pretty consistently when we look at the weather aloft for Jacksonville Florida. This is from Jan 30th, 2011, so at the same time of year.
If you look at the contrails just to the upper left of the center, you can see the streaks point more or less a bit south of west. So we've got a westerly wind blowing. The contrails are moving, probably pretty fast (over 100 mph) towards the East, and out into the Atlantic. We can see this even clearer if we enhance the contrast on those contrails over the ocean:
The lake in the bottom left is Lake George in Florida. It's about ten miles long. We can see that some of the older contrail tails are around 30 miles long and that the contrails to the East have longer tails. All of this suggests that the contrails were formed a long way from where they ended up, possibly more than 100 miles away.  If a contrail were to persist today for two hours, then with the 122 mph winds at 34,000 feet, it would move 244 miles away from where the plane originally flew.
With all this information is very easy to see how the grid patterns form. Planes flying either over Florida to other destination, or flying to and from the cites of Southern Florida, will leave trails in this large mass of moist cold air. These trails will successively be blown to the east at 122mph, leaving the long smears of clouds across the sky, while new planes fly along similar routes, leaving trails parallel to the firs trails. These continue to be blown to the east, and after a couple of hours of the right weather conditions, and perfectly normal air traffic, we get the impressive looking images we see above.
Unfortunately, in the chemtrail community, this impressive and informative image has taken on a life of its own, co-opted to suggest the pattern of spraying is deliberate. Here's an example of the reasoning given:
They indicate the positions of some nearby cities and say that because the lines don't connect the cities, then it must be a deliberate grid. Of course "lines connecting cities" is the LAST thing we would expect to see in a satellite photo of contrails. Firstly, as we see above, the contrails are moving east at 100 mph, so they will not end up positioned on the line between the cities, but instead tens or hundreds of miles away, but parallel to that route.
I wrote a simulator to demonstrate this:
https://contrailscience.com/contrail-simulations/
And this video illustrates it perfectly
Secondly, and this is a frequently missed point. Planes don't leave contrails near the airports they land at or take off from. They don't because they are too low. Only when a plane reaches cruising altitude will it typically be cold enough for persistent contrails to form. If a contrail is seen near an airport, then it's flyover traffic. Quite often though airports are used as navigation beacons, so act as a kind of crossroads in the sky. So while you will see flight paths above 30,00 feet radiate out from those cities, they are not actually going to those cities. Here's a plot of FAA data of all flights above 30,000 feet for one 24 hour period in that region: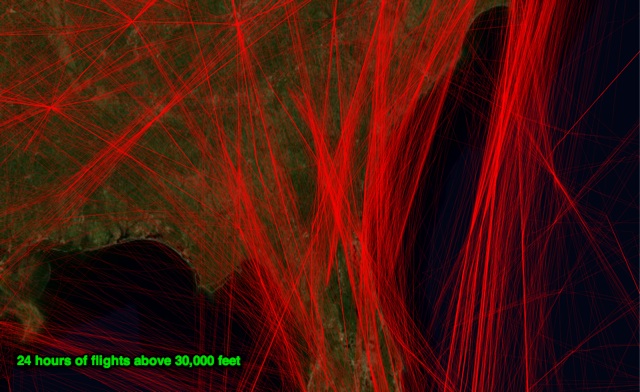 Thirdly, as you can see from the larger images, the regions of moist cold air are concentrated in bands. It's actually quite rare for a contrail to form and persist for the entire length of a flight (at cruising altitude). You are going to see the contrails broken up, and only in some areas, as the plane moves in and out of various regions of the air.
So, an impressive image. But what it's really indicative of is the weather conditions on that day, and the sheer volume of traffic we can get in a few hours over that region of the US. Check out this video to see 24 hours of flights:
This intensity of contrail cover is actually fairly rare. I reviewed all the shots of that area for winter 2012/2013, and I only found one that looked similar. Jan 21, 2013.