This photo is from January 29th 2009, at approximately 3-4PM over Corvallis, Oregon.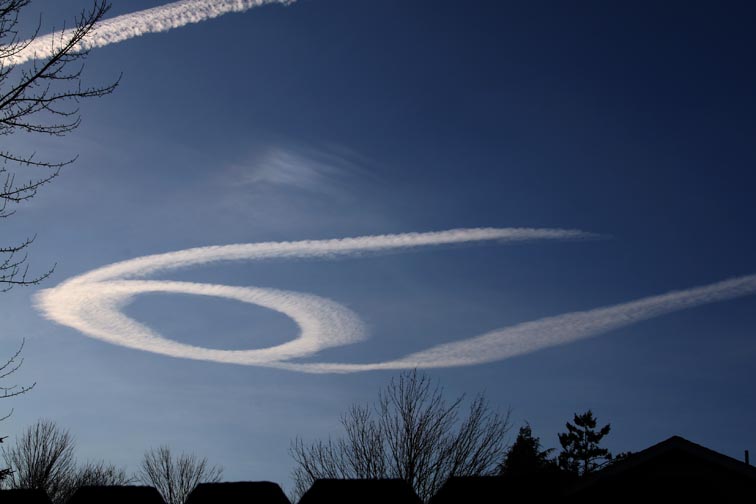 It shows a contrail from a plane that has made a 540 degree turn (one and half full turns) to fly back the way it came.  This photo was probably taken an hour after the plane made the turn, judging by the amount of spread.
This provoked some interest in the local press:
What's that up in the sky?
By Alex Paul
Gazette-Times reporter

Jet trail has mid-valley looking up, imaginations soaring
A misguided passenger airliner?
A military jet on maneuvers?
A visitor from another planet who decided not to stick around?
They even got a quote from a local authority:
But another viewer noted, "I got a shot of this unusual trail also. I'm an aircraft mechanic and that does not seem like a condensation trail to me."
(Not sure why an aircraft mechanic would be an expert on contrails, but there you go).
The next day, things were resolved:
Contrail could be from Boeing jet
By Steve Lathrop
For the gazette-Times
Test flight tracked as far south as mid-valley
…
FlightAware.com shows the meandering path of a flight [BOE504 – a Boeing 737-800 test aircraft] from Boeing Field in Seattle that apparently came as far south as the mid-valley Thursday and then returned. The site says the plane departed at 11:40 a.m. and landed at 2:59 p.m. The loop-the-loop contrail was photographed over Albany around 2:30. At its southern tip over the mid-valley, the flight path shown on the site appears to circle in just the shape the contrails were seen.
Several readers sent in photos.
This contrail is very similar to the one I described (and tracked with FlightAware) in Voodoo Contrails, but what's interesting here is the similarity of the story to stories in "contrail confusion is nothing new", where, back in the 1950s, people were having the exact same reactions to contrails, and newspapers were writing the same stories: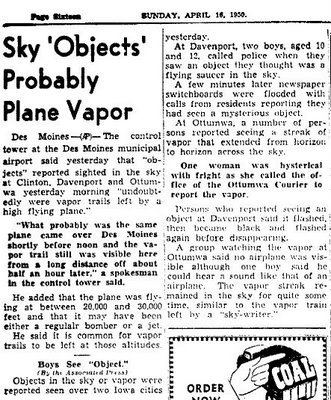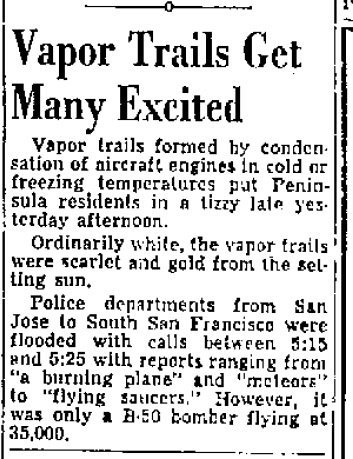 Back in the 1950s, of course, contrails were less common.  Now it takes a rather unusual contrail to spark the public's imagination.     However, in some places, contrails are still relativly uncommon, so still get mistaken for UFOs, such as these in Hawaii, 2007: