UK resident UnionJack1967 recently posted some photos on DavidIcke.com of five very unusual looking trails. He took several photos, and I've combined two of them here to show all five trails together.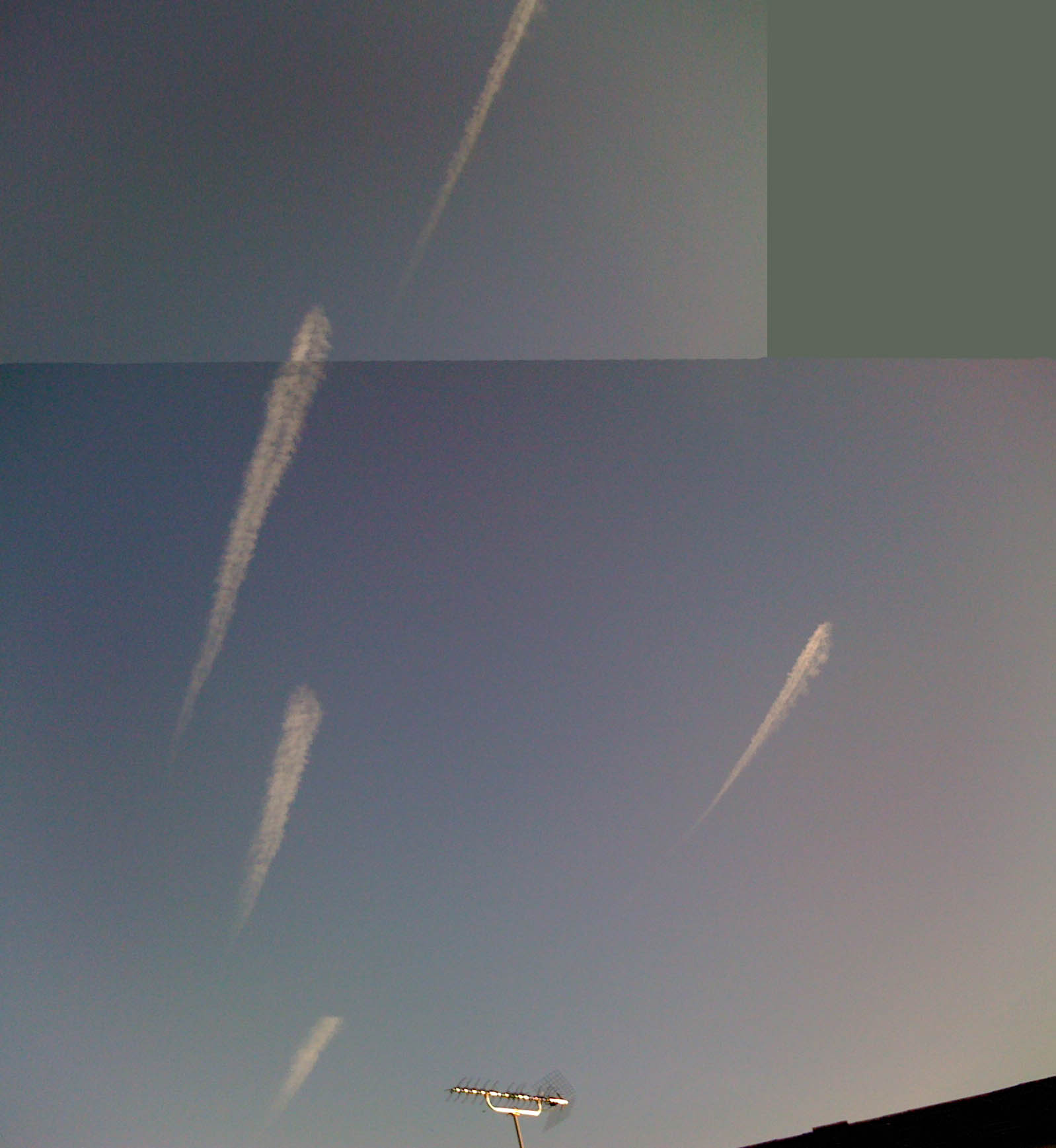 He provided the following information about the trails:
Being a bit of an aircraft buff, i know enough about contrails to know one when i see one, but seeing these pictures, i can say that these are no contrails, quite what they are i am uncertain, but they are definately not contrails, not in this configuration!

Taken with iphone @ approx 1800hrs, 8th apr 2011, location – 8 miles south of Birmingham UK
These are indeed very odd looking trails. Short contrails are not uncommon, they are typically formed when a plane flies through a region of air that's moist and cold enough to support contrail formation, and sometimes persistence. But that type of short contrail is generally of consistent thickness, and parallel trails in the same general area of the sky should start and stop in a way that roughly lines up.  UnionJack1967's trails are an unusual tapered shape, and their ends seem oddly random, very different to what you would expect.
Initially, I was inclined to think they were not contrails at all – perhaps some kind of smoke trails, maybe skywriting practice, but that made little sense either. Then I was suddenly reminded of a somewhat similar looking short trail caused by an aircraft – a fallstreak cloud: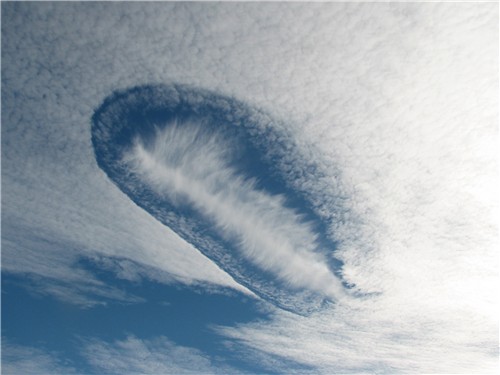 Fall streaks like these are caused when a plane is climbing or descending through a thin layer of supercooled cloud. The passage of the jet caused the cloud to precipitate out as ice crystals, leaving a round hole, and a central cloud, essentially of falling high altitude snow. Note how this trail also seems to taper towards the lower right.
But that's not what is going on in the UnionJack1967 photos. But I think it's something similar – planes are descending or climbing through a relatively thin layer of moisture. This layer supports the formation of contrails. Since the routes that planes fly along are a few miles wide, and their descents can vary, then the start and end positions are going to be pretty random, as seen in the photo.
The tapered nature of the trails is a bit odd. But I think what's going on is that the higher up the trail is, the more it will have the chance to expand during its initial descent. The parts of the trail that are closest to the bottom of the layer will be thinnest, as part of the contrail will descend below the bottom of the layer before it has a chance to fully spread. If this theory is correct then the thinner end of the contrail should point towards the nearby airport that the plane took off from (or is descending towards).
The photos were taken near Birmingham in the UK, in the evening, and it seems like the sun is roughly to the right of the photos, which means the thin end of the trails is roughly pointing south – towards London.
This hypothesis is confirmed to some extent if we look at the Aqua satellite photo for that day:
http://rapidfire.sci.gsfc.nasa.gov/subsets/?subset=United_Kingdom_Ireland.2011098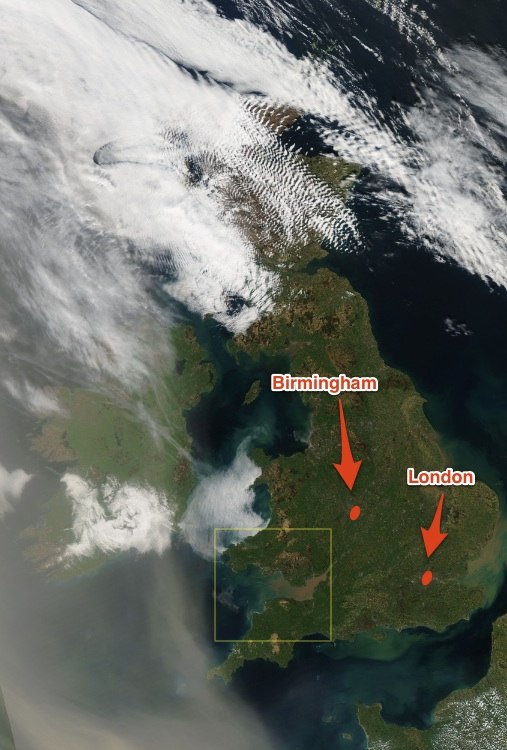 The central portion of the image was taken at 12:50 UTC, so at 1:50 PM, BST, about four hours before UnionJack1967 took his photos. You can see an approaching band of cirrus level clouds in the West.  And if we zoom in on the South Wales area indicated above: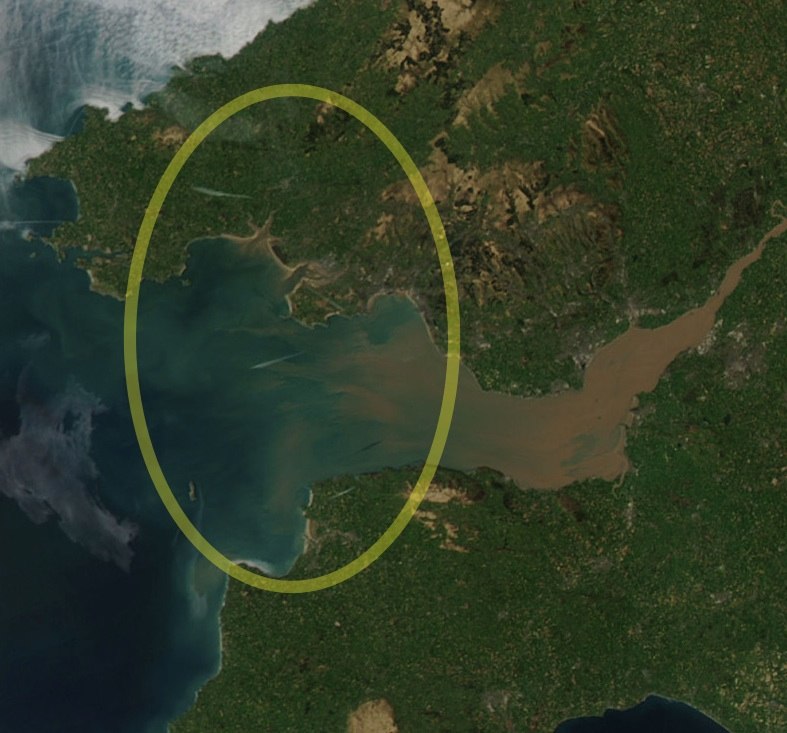 We see three very similar short trails, with the thinner end pointing roughly towards London.  You can tell they are very high by looking at the distance of the trail from the shadow it casts. The two longer trails are about ten miles long each. Given that UK weather systems generally move towards the east, it seems pretty reasonable that the conditions above South Wales in the 1:50 image would have migrated over to Birmingham a few hours later.
UnionJack1967's trails look very odd because they combine an unusual grouping of trails with an unusual kind of tapered trail. Had there been a single tapered trail like this, or a group of five trails, then it might not have raised any interest. But the perfect weather conditions for creating this type of trail let to five appearing at once, which looks odd.
I feel fairly confident that the above explanation is the most likely one – but would welcome suggestions for what else might cause trails like this.