Well, it looks like the cat is out the bag. The secret government has slipped up and allowed the release of a History Channel special that spills the beans on the whole Chemtrail program!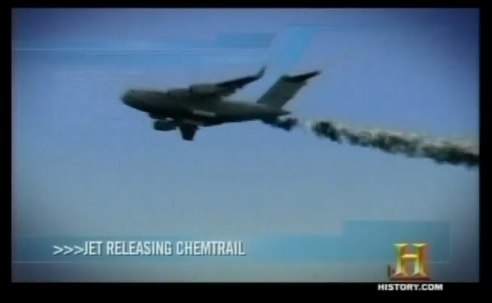 Several clips from this show are available on youtube:
The unfortunate thing about the show is that, regarding "chemtrails" it's all theory and zero facts. Far from "validating" any chemtrail theory, the show simply repeats the theory.   What's more it's basically just a platform for William Thomas to repeat the same nonsense he's been spouting for the last ten years, totally ignoring both science and common sense. For Example:
Thomas: I think most of us in North America have been wondering about these plumes criss-crossing the sky in grid patterns, rows, and the now-familiar X's, and many of us have wondered what these trails are.
Well, actually no – most people don't wonder what these plumes are. And for those that do, we know EXACTLY what they are. They are contrails. This has been explained time and time again, with vast amounts of scientific and historical evidence behind the explanation. What evidence does Thomas give? None. Zero. Zip. Nada.

In fact, Thomas's entire theory is based on a simple misconception that he continues to repeat over and over, totally ignoring all evidence to the contrary. He claims that "normal" contrails vanish in a few seconds, and that "chemtrails" last for hours. This is demonstrably untrue. Contrails last for a varying amount of time based on the weather at the altitude they form. They can last for hours, and spread out to cover the sky. Any book on clouds will tell you this, and spreading contrails have been observed since 1921.
Yet Thomas manages to get his nonsense into the show:
VO: They first appear to be simply contrails, coming from high flying jet airplanes. But these trails linger in the sky for many hours, some for even an entire day, forming an artificial cloud
It seems that, like Thomas, the writers of the show chose to ignore the fact that THIS IS WHAT CONTRAILS SOMETIMES DO!!
You simply need to read the Encyclopædia Britannica article on vapour trails (contrails):
Contrail, streamer of cloud sometimes observed behind an airplane flying in clear, cold, humid air. It forms upon condensation of the water vapour produced by the combustion of fuel in the airplane engines. When the ambient relative humidity is high, the resulting ice-crystal plume may last for several hours. The trail may be distorted by the winds, and sometimes it spreads outwards to form a layer of cirrus cloud.
vapour trail. (2007). In Encyclopædia Britannica.Retrieved May 4, 2007,from Encyclopædia Britannica Online: http://www.britannica.com/eb/article-9074829
Or read "A Field Guide to the Atmosphere", by Schaefer and Day, 1981:
"Sometimes [contrails] are ephemeral and dissipate as quickly as they form; other times they persist and grow wide enough to cover a substantial portion of the sky with a sheet of cirrostratus" (Page 137)
Or read, all these articles on contrails. In particular the one titled "Airborne Observations of Contrail Effects on the Thermal Radiation Budget", from 1970:
The spreading of jet contrails into extensive cirrus sheets is a familiar sight. Often, when persistent contrails exist from 25,000 to 40,000 ft, several long contrails increase in number and gradually merge into an almost solid interlaced sheet.
[….]
Contrail development and spreading begins in the morning hours with the start of heavy jet traffic and may extend from horizon to horizon as the air traffic peaks. Fig. 1 is a typical example of midmorning contrails that occured on 17 December 1969 northwest of Boulder. By midafternoon, sky conditions had developed into those shown in Fig. 2 an almost solid contrail sheet reported to average 500 m in depth.
Airborne Observations of Contrail Effects on the Thermal Radiation Budget
Peter M. Kuhn
Journal of the Atmospheric Sciences
Volume 27, Issue 6 (September 1970) pp. 937–942
The History Channel is an entertainment channel, pure and simple.    They do shows on UFOs, Psychics, Ancient Astronauts, etc, all without any real pretense of being scientifically objective.    They want an entertaining story, and if that means ignoring the facts, and interviewing on the people with the most entertaining theory.
I'm sorry that "It's just Contrails" is a boring theory.  But it's the only theory that actually has ANY science behind it.