The cloud of volcanic ash from Eyjafjallajökull has prompted the most significant air-traffic shutdown in European history.  This will provide a unique opportunity to study the effects of a contrail-less sky.  But we must be careful how quickly we draw conclusions from the immediate data.
Take the two images above,  the first, dated April 10th 2010, before the volcano erupted, shows a large amount of contrails, and lots of cirrus clouds, many of which are probably contrail induced cirrus.  That was taken before the volcano erupted.  The second image, dated April 17th, shows no contrails at all.  The simple conclusion here is that removing air traffic made for vastly clearer skies over the UK.
Cause and effect?  Sure, there were no high altitude flights on the 17th, so no contrails. But contrails are not the only variable in the two photos.  There's a lot of cloud cover on the 17th that's entirely unrelated to the volcano.  The questions to ask are:  what would April 10th look like without the high altitude flights, and what would April 17th look like with normal air traffic.
Now I was somewhat selective with the photos I chose above.  April 10th had by far the most contrails, and April 17th was the clearest day during the shutdown.  Let's pick another two days with the same traffic/no-traffic variable: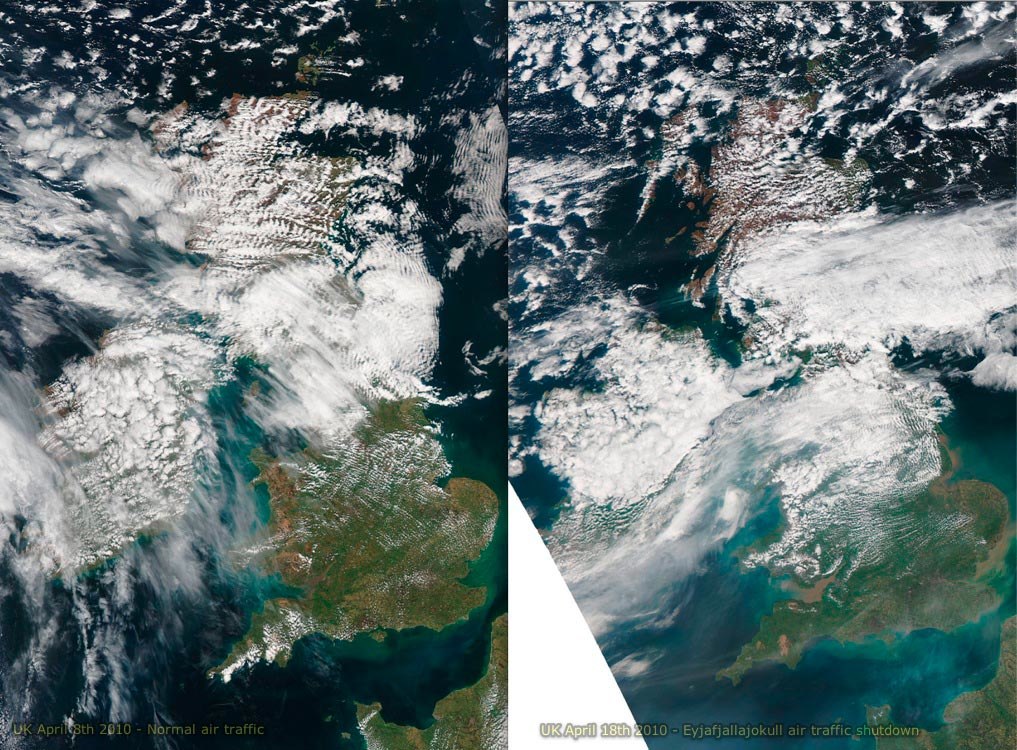 Here we've still got a before and after comparison, April 8th had normal air traffic, and April 18th had no air traffic.  But here the images are much more similar in terms of the cloud cover, and very few contrails are visible on the April 8th image.
The key point here is that you can't take any one image, and hold it up as representative of what is going on every day.  The normal day to day variances are far greater in effect than the variance caused by the absence of air traffic.
That said, of course the April 10th image would have looked very different had there been no air traffic.  Contrails do often have a significant effect on cloud cover.  But how different would the April 8th image have looked without air traffic?  And what would the April 18th image have looked like with air traffic?