This news report is from 1980.
It's based on this research paper:
EFFECT OF CONTRAIL CIRRUS ON SURFACE WEATHER CONDITIONS IN THE MIDWEST
(Searchable/Copyable OCR version here)
It's interesting because it shows that back in 1980 people were noticing contrails persisting and spreading to cover the whole sky. At that point, people had even noticed it contributed to increased cloudiness.
This is a useful video to show anyone who thinks that this is a recent phenomenon. For more details, the research paper also makes it very clear that contrails in 1980 were just the same as contrails in the present day.

Transcript:
Clouded Judgment: Do Jet Contrails Increase Cloud Cover?

JOHN CHANCELLOR, anchor:

On clear days, you can often see long white lines being traced high in the sky. They are contrails of jet aircraft. They're actually long, slender clouds. Other men are finding them especially fascinating because the theory is being developed that those long, white lines may be changing our weather for the better. Details from Roger O'Neil.

ROGER O'NEIL, reporting:

The exhaust from jet engines, usually seen as long, thin trails of white clouds behind high-flying jet airplanes, may be a big reason why there are 30 fewer days of sunshine a year in the Midwest now than there were in 1900. The daily range between high and low temperatures has also narrowed. Weather researchers, studying cloud cover in 10 Midwestern states, found a sharp increase in cloudiness with the increase in commercial jet travel, particularly in the main East-West jet corridor, there were even more clouds. A jet produces a contrail or cloud because its exhaust consists primarily of water vapor.

RICHARD SEMONIN (Illinois Institute of Natural Resources): In the absence of natural clouds, given the correct atmospheric condition, jet aircraft in high frequency can almost completely cover the atmosphere, visible atmosphere, with clouds.

O'NEIL: Semonin says, unlike most changes in the atmosphere caused by man, this one is beneficial. Clouds help farmers in the Midwest by blocking the sun. Temperature extremes can damage plants and speed up the evaporation of soil moisture. In the Winter, city people benefit because clouds act as a blanket, preventing warm air from escaping into the atmosphere. No one is trying to make clouds now using jet engines, but this study suggests that jet travel is inadvertently making our days more cloudy and some day, weather researchers may be able to use jets on purpose to change our weather. Roger O'Neil, NBC News, Champaign, Illinois.
The paper and TV coverage was also accompanied by some press coverage, such as this piece from the Washington Post, reprinted in The Gazette, of Eastern Iowa, Vol 98, Number 352, Friday Dec 26, 1980: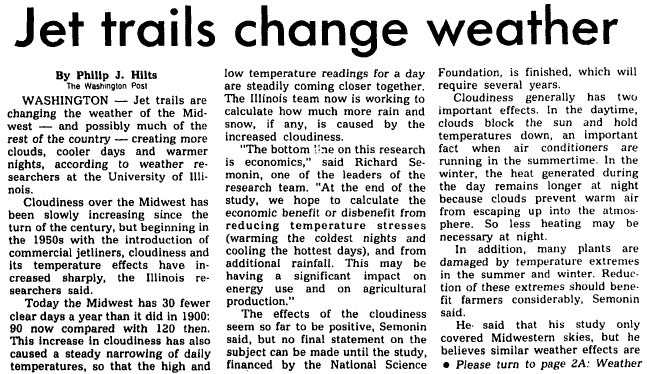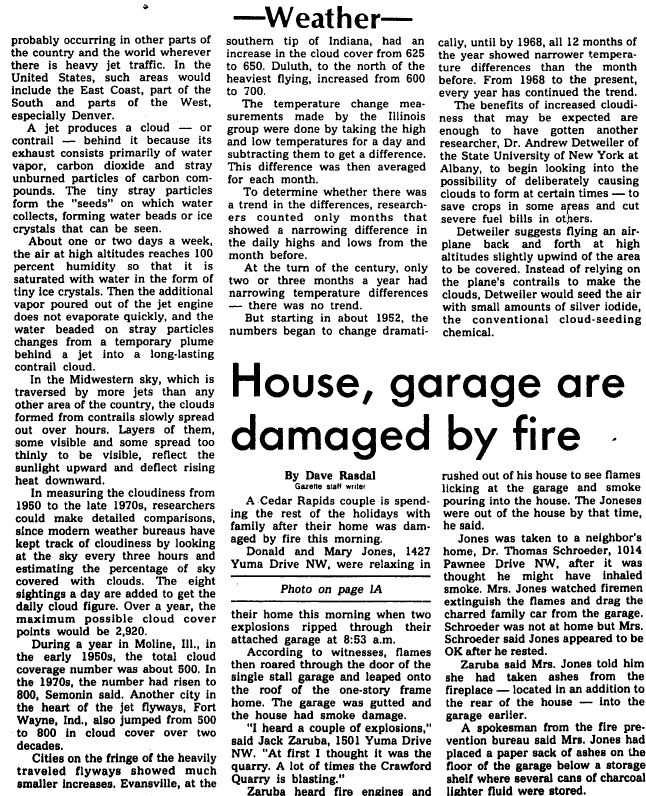 Very interesting that this trend of contrails affecting the cloudiness has been observed since 1952.
Interestingly there was a similar report in 1998, with Brian Williams. NBC Evening News, Jul 27, 1998. I'd love to see the video of that.
http://tvnews.vanderbilt.edu/diglib-fulldisplay.pl?SID=20111202284271240&code=tvn&RC=625407&Row=4
Here's another from 2006
http://www.cbsnews.com/video/watch/?id=1847398n&tag=mncol;lst;4