Some people believe that persistent contrails are evidence of a secret government spraying program called "chemtrails," which began in the 1990s for some purpose, such as weather control, population control, or more exotic purposes.
A common claim made by those believers is that chemtrails have persisted only in recent years, and back when they were young (usually implying sometime before the 90s), they remembered "blue skies", which they don't see anymore.
I live (in 2007) in Los Angeles. The sky is generally blue here. In fact, it's blue about 300 days of the year. It's often hazy in the morning. But I'd say the sky is blue, and if asked to recall what the color of the sky was, I think I'd say blue, especially if I were recalling a day at the beach or some such thing.
Were the skies different before 1980? Personal memory is not a good yardstick, so perhaps the photographic record is. Now, until recently, most of the photos people put online were from digital cameras, and hence quite recent. But now the older folks are starting to scan in their old photos, so we get things like this album: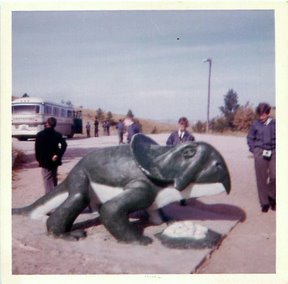 http://picasaweb.google.com/WynnWagner/WynnSFirstPhotoBatch
This is a batch of photos from the 1960's and earlier. While there is not much that looks like a contrail in any of the photos, there are a LOT of photos that show the kind of hazy sky that chemtrailers believe did not exist when they were young. In fact, nearly all the "blue sky" shots show some form of haze or cirrus clouds. The only time a sky approaches the "deep blue" of chemtrailers childhood imagination is when the camera is pointed nearly straight up, such as in the photo of the South Dakota capitol. Even there, you get the haze.
So why are there no persistent contrails? Well, it's just no persistent contrails in the photos; it's no contrails at all. In fact, there are no planes in the sky!
Here are some more albums of old photos
1979 http://picasaweb.google.com/photos.hall/Crete1979
1980 http://picasaweb.google.com/kldelpha/TripWest1980
Back to the claims of the chemtrailers. Are the skies different now? Sure, there is more air traffic, hence more contrails. But is there evidence of this? Look on picasaweb at people's vacation photos. You see blue skies, hazy skies, and cloudy skies. You really don't see many contrails.
Look for photos of places that people consider to be hotbeds of chemtrail activity. Any place you are familiar with, say San Diego. Look for photos of San Diego. How many have contrails in them? Almost none.
What does this mean? It means confirmation bias, it means selective memory. Most of the time the sky is hazy. Most of the time it does not have persistent contrails in it.
Sometimes, of course, they do. We can be selective with the past as well as the present. We don't remember them because they are rare, but they are there:
Applegate Lake, 1981, persistent contrail above the horizon.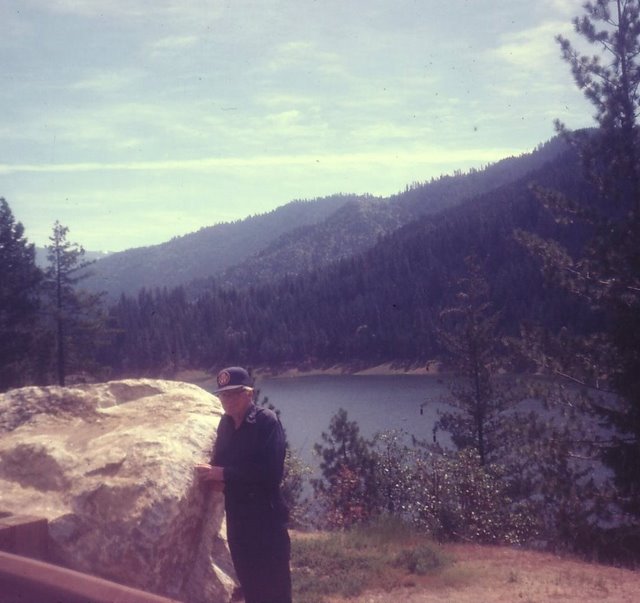 1970s – Two parallel contrails, with a third being formed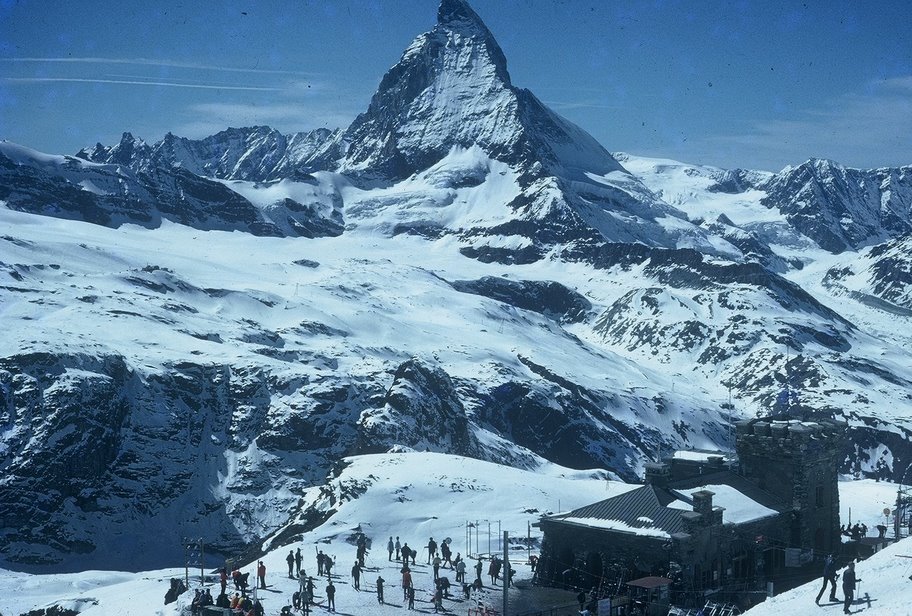 1969, morning contrails that will spread and cover the sky: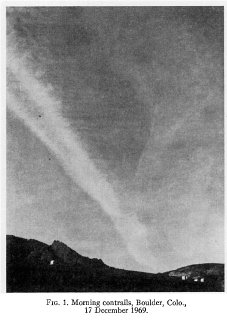 [UPDATE] People have been scanning and uploading more family albums over the past three years.  For many more (and better) old contrail photos, see:
https://contrailscience.com/contrail-photos-through-history/
[UPDATE] Here's an interesting thread on ATS.
http://www.abovetopsecret.com/forum/thread708238/pg1
Which asked this question:
– My request is this; —– Post if you remember seeing these lines like we do now (gridded up sky's with lines eventually turning a nice sunny day into something of a hazy/cloudy sky)

– OR – —– post if you remember not seeing anything like the lines and grids we see today.
Here's the relevant results:
I'm 52 and I remember seeing them all the time when I was a kid in the '60's. I remember because I asked my dad, who was an engineer, to explain to me what caused them.

Yeah, I gotcha, many times for hours. Maybe most of the day, I don't know, I never spent that much time looking at em.

I'm not epic old, but I do remember some contrails lasting for hours, arching over the sky and you could follow it right to the horizon.

The Glynco Naval Air Station was working in full force when I was born in 1947.
I am also in between Savannah and Jacksonville that are both homes to military air stations.
Yes I remember the contrails growing up and enjoyed seeing the jets in the sky.
We had many sightings a day due to being so close to the ocean,

I used to sky watch all the time with my friends when we were little kids… we all remember contrails in the sky and them lasting for a few minutes, perhaps up to an hour, but not the whole day, not EVER.

im not much older than you op im 25 and remember seeing them as a kid in the early 90s. i would watch as a plane approched a contrail and expected them to crash when it hit them.

I'm 51 & live in the South Pacific.
Down here there was only 1 overhead air route when I was a kid – between 2 cities 200 miles north & 200 miles south (and it's still the same there now). I remember seeing long contrails along that route before I started working – so in the early 70's and late 60's – sometimes the one from the flight in 1 direction would still be there when the a/c went back in the opposite direction an hour later.
I remember them spreading out a little – but not over the "whole sky"

I'm in my 40s and grew up in SW PA. I used to love looking into the summer sky and seeing long CONTRAILs. I would follow them across the sky to see if the plane was still in the air. This isn't a new phenomenon, they've been around for as long as I can remember!
This would be in the 70s. Yes, the skies around Pittsburgh weren't THAT bad. You have to remember that the Steel mills were starting to shut down and the air quality started to improve.

I have been looking at blue skies for over 60 years. I can remember looking at a certain amount of contrails all my life. The sky was blue and I mean blue and sunny on a summers day. 15 years ago I started working what I call vampire hours. I slept alot of the days away and up about all night. I didn't get to see much of the sky. This past year I have found myself unemployeed like so many others. I would get up in the morning to a nice spring or summer day which didn't last past 10 am. I kept wondering what had changed I knew something had. Some days I will see contrails going in all directions within an hour the sky will be like a sheer white veil and never see the blue and sunny sky again. … I really miss my nice mornings and sunny skies.

I've been around for a while, now, and here in the inter-mountain west and the northern high plains I see no difference in the behavior of contrails. There are certainly MORE of them than in the 60's and 70's but they act the same as far as I can tell. And you can see a l-o-n-g way from a mountain top!

I'm 50, from Indiana US. I remember contrails just as they are today from my childhood. I had an interest in the planes over my head because my father commuted by plane for most of my childhood. There is always the wonder if Dad is in that plane over head. There are absolutely more planes now.

I was in the USAF from 1990 to 1996. I remember having a guy come into our unit that had a BS in aeronautical engineering, but he was enlisted. I was amazed that he didn't apply for OCS since he would be able to. Anyway, me being a guy who didn't have a BS I thought he would be a wealth of knowledge for the many questions I had. (there was no Google back then) I asked him why some contrails lasted a long time and why some went away quickly. He didn't know. Now either he didn't pay attention in class, or they didn't teach him about that, but it doesn't matter. I clearly remember being interested enough to ask this question in the early 90's. Being 43 now, I have a hard time remembering what I had for breakfast, but that one memory seems to validate that persistent contrails have been around for a bit.

I'm only 37, but I do have a pilot's license, and I have stared at the sky since I was old enough to roll over!
There are more lines, because we have more air traffic. Much, much, much more air traffic.
The lines are more persistent because the airliners are flying higher and faster than ever before. Plus, with more lines, the lines tend to drift and combine and kind of form a high hazy layer.

used to lie on my back and watch them fly over in the late 70's early 80's, the contrails would last or not as often as they do here now

I am 48 and I also remember watching airplanes with their contrails in the air but not in a way that I could play virtual chess with them.

I'm an old fart, I saw JFK's funeral procession on b&w TV as a boy. I was very much a sky watcher in my youth but I do not recall if there was always mist behind planes. I know I've seen trails behind planes for a very long time, nothing new.

As a kid in the 70's and 80's I remember watching the contrails form behind aircraft high up in the sky. I mean so high you couldn't always see the aircraft at the front making it. But I don't remember them lasting all day or spreading out the way they do now. They seem to form lower these days too.

1st time i notified was around the age of 7, in 1984-85.
They lasted long enough.

I'm in my mid forties and don't remember seeing long lasting contrails in the skies when I was at school.
I don't remember it snowing before 1979 either.

No I don't remember so many lines in the sky, before I ever had the internet, quite a few years ago now, I started noticing them, and no one influenced me.

There is no damn way chemtrails have been around since planes started flying. i used to see planes once in awhile with a normal contrail when I was a kid. Still see normal ones today. The ones where the ice melts about a mile behind the plane. I'd say 91 was the year we started seeing this crap that stretches across the sky intersecting all across the sky. Lingers allday long. No it was not always so. Any one who says it was. Is nothing more than wrong

Mid 30's here and I remember bluer skies, then again when your younger everything seems brighter and more colorful.
Winters were alot colder and summers seemed cooler.
Seems like well over half the people there actually DO remember persistent contrails, just like today.
One of the guys who did not actually thinks they started in 1991. One of them thinks they started in 2010.
Pretty much all that demonstrates is the variability of memory. But if the majority in the conspiracy theory community remember them, then that seems pretty good evidence that they have always been there. Especially as it tallies with recorded history, and science.