Some people think that persistent contrails (high altitude aircraft vapor trails) are unusual, and are evidence of some secret government plot to modify the weather, or spread some population controlling drug or toxin. This is based on a misunderstanding of how contrails form, persist and spread. It is also not a new misunderstanding.
Back in the 50's in America, contrails were a fairly rare sight in many parts of the country. Air travel was a fraction of what it is now, commercial jet travel did not start until 1958, and military operations were generally limited to particular areas. So it was not surprising that when someone noticed a contrail for the first time, they might think it to be unusual.
This account from 1951 reads almost exactly like the misunderstanding of current contrails:
Galveston, Texas, Sunday, October 28, 1951, in The Galveston Daily News: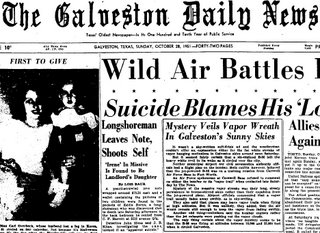 Mystery Veils Vapor Wreath in Gaveston's Sunny SkiesIt wasn't a sky-written soft-drink ad and the weatherman couldn't offer an explanation either for the fat white streaks of vapor hanging motionless in Galveston skies around noon Saturday.
But it seems fairly certain that a six-engined B-36 left the heavy white trail in its wake as it circled over the city.
Neither municipal airport nor civil aeronautics authority official had a flight plan on the bomber. Both outfits however, believed that the jet-powered B-36 was on a training mission from Carswell Air Force Base in Fort Worth.
An Air Force spokesman at Carswell Base refused to comment on either the bomber or its "vapor trail" when contacted late Saturday by The News.
Mystery of the massive vapor streaks was their long steady persistence in breeze-stirred skies rather than their expulsion from the jet-powered plane. Airport officials commented that a vapor trail usually fades away swiftly, as in sky-writing.
They also said that planes may leave vapor trails when flying at high altitudes. But it was unlikely, they added, that the air would remain still enough to keep the vapor from fading swiftly.
Another odd thing – onlookers said the bomber engines rather than the jet exhausts were pushing out the vapor clouds.
The only thing certain about the vapor mystery seems to be that the B-36 was flying at altitudes between 10,000 and 25,000 feet when it circled Galverston.
There are several components of the misunderstanding. Winds at altitude differ significantly from winds on the ground. Sky-writing happens at a much lower altitude and is totally different. The B-36 was the largest American bomber EVER, 50% larger than the B-52, and could easily cruise at 40,000 feet. So estimates of its height over Galverston could easily be underestimated, if based on experience with more typical aircraft. The B-36 also did not use its jet engines at cruising altitude, only for takeoff and dash attacks.
Here's a photo of B-36 contrails at 37,000 feet, from the Operation Teapot nuclear tests on 6th April 1955, in Nevada: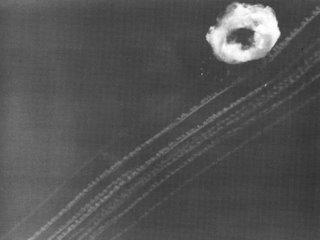 All the trails are from the same B-36 jet overflying the test site (it was an aerial test).
And here is an account of a B-36 leaving persistent contrails at 20,000 feet.
Another account from a year earlier (1950), where the vapor trails (contrails) are mistaken for some kind of UFO. Typical of the flying saucer craze of the time. This from the Waterloo Courier, April 16, 1950: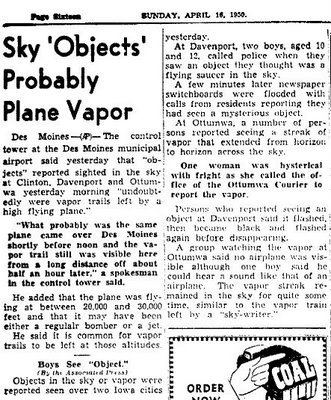 Here's another from the San Mateo Times, Jan 12, 1950: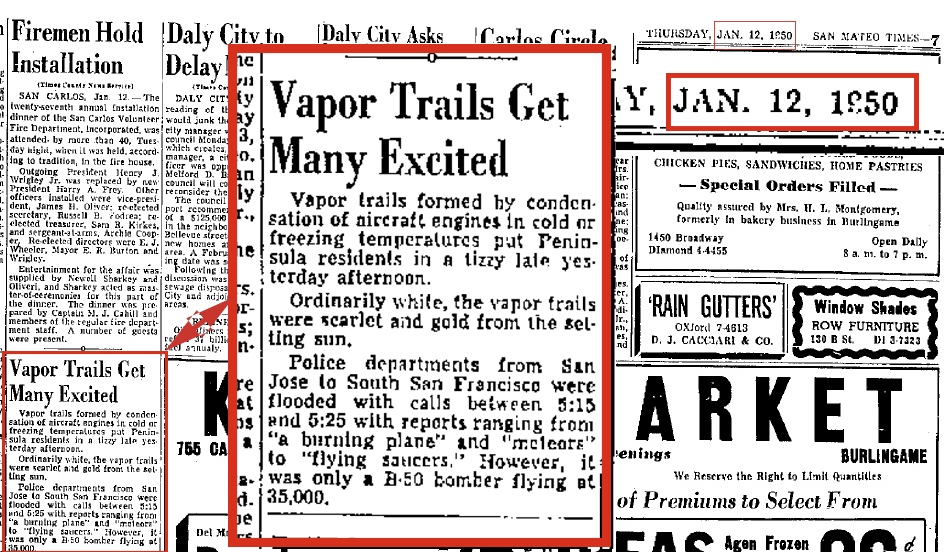 And another from the Kingsport Times, Tennessee, Feb 11, 1954 (click on the image to zoom in):