Update:  Here's the google earth file
I was forwarded an interesting video on TMZ a few days ago:
http://www.tmz.com/2010/12/09/manu-ginobili-ufo-video-san-antonio-spurs/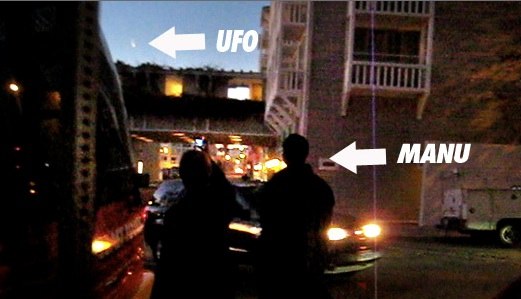 It shows Manu Ginobili of the San Antonio Spurs as he observes some kind of UFO in the sky behind him.  At first it looks like the short sunlit contrail of a plane.  But then it seems to be moving much too fast, even changing direction.
The video was taken on Pico and Appian in Santa Monica, and we can use the surrounding building (Shutters Hotel) to get a rough sight line to the object using Google street view: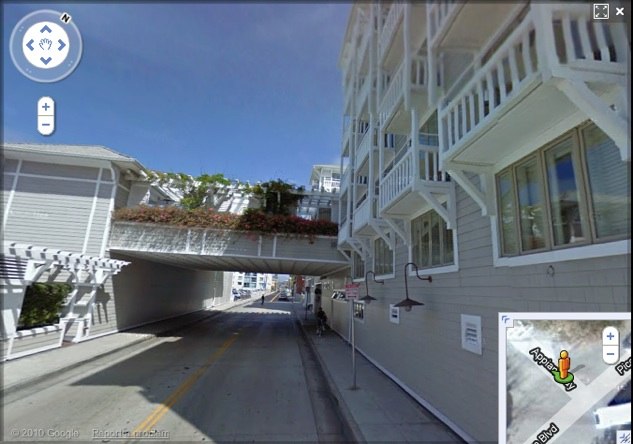 So it's about looking NorthWest, basically along the coast, but a bit out to sea.
Then we have another video of the same incident: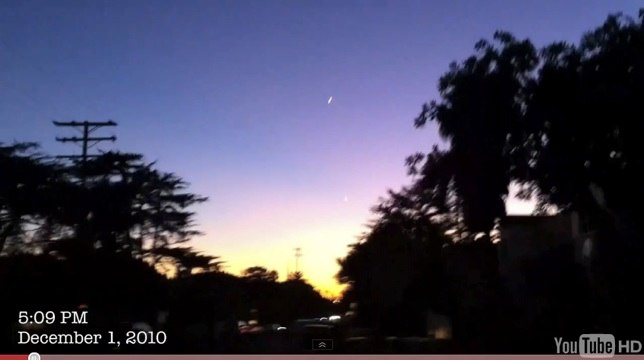 This is a pretty interesting video, as it shows the object change direction.  If it were not for that, I'd still suspect it was a short sunlit contrail from a jet flying west.  But this is clearly something else.  Almost certainly closer, based on how quickly it changes direction.
Now this video was taken at 15th and Washington Avenue, in Santa Monica.  Again we can use Google street view to get a view angle (they are basically looking straight down the street).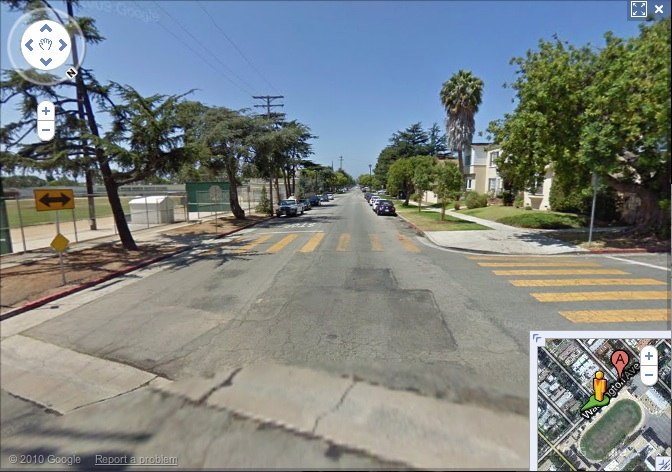 This time it's Southwest, exactly at right angles to the other video, which was Northwest.  So where do these two viewpoints meet?  Where is the object – let's triangulate: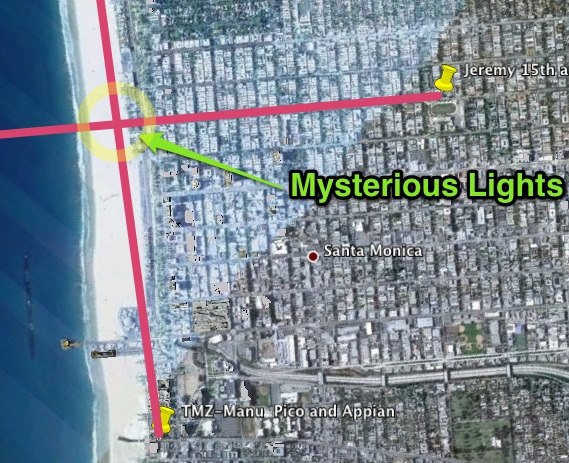 That's somewhere over the beach, just slightly over a mile from each viewpoint, about 2/3 of a mile north of Santa Monica Pier.  That also means that the object would only have been around 1,000 feet above the ground when it was videoed, so it's not very big at all.  It would also have been seen by hundreds of people on the pier.  There are several more videos of this and a very similar incident a week later, they all seem to point to this approximate location and altitude.
To establish the altitude I added an approximately 1000 foot high column in Google Earth: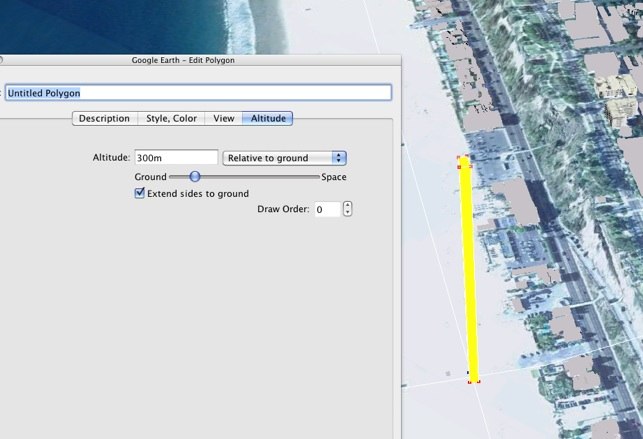 Then looked at it from both locations: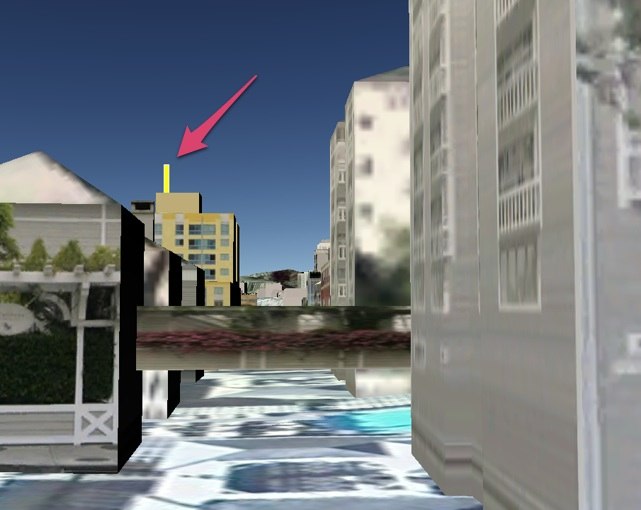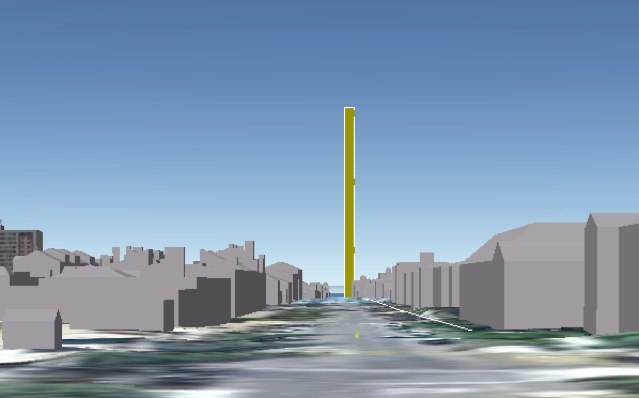 So that height seems about to match.  That pillar is also about 40 feet wide, now that's much harder to judge in the video, but it seems like the object must be leaving a trail less than 40 feet long.  I'd suspect much less.  Making the object itself at most a few feet in diameter, possible as small as one foot in diameter.
The Dec 8th incident was captured in still photos by Evan Menak.  Using Google Earth I was able to match the viewpoint (Venice Pier) and assuming the object is also around the area of the beach at the end of Washington avenue, then I added a polygon to estimate the height.  This one came out at 1400 feet.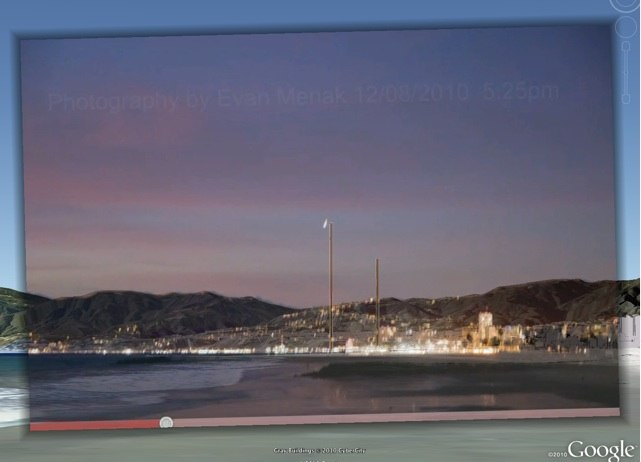 Overlaying all four shots and measuring the distance falled and the time stamps of the photos gives us an approximate speed of the object.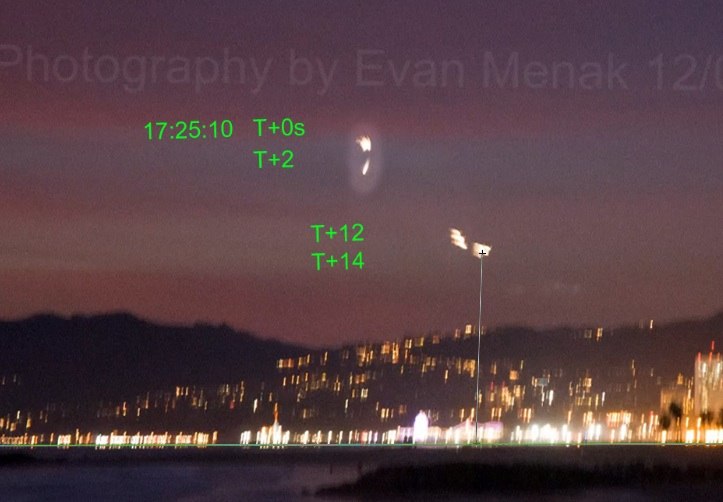 It falls around 500 feet in 14 seconds, so about 36 feet/second.  It travels about the same apparent distance inland.  36 f/s is about 25 mph.  The winds at that time were around 5 mph from the west.  That would seem to rule out a parachute rocket flare, and indicate something more aerodynamic.
Then another video, from daveandjamie2004,  shows up, this one from Wilshire and 15th (a few blocks south of the "Silver Surfer" video). Again this proves a reasonable match in Google Earth: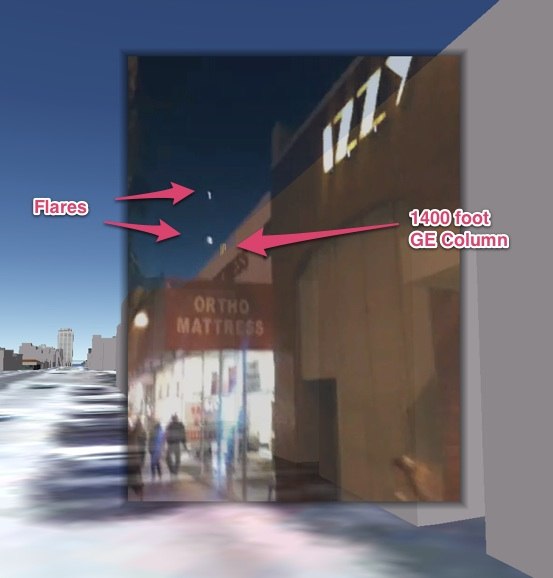 So we call tell pretty accurately WHERE the objects are.  In both cases they are approximately over the shoreline, opposite the California Incline in Santa Monica, and between 1000 and 2000 feet in the air.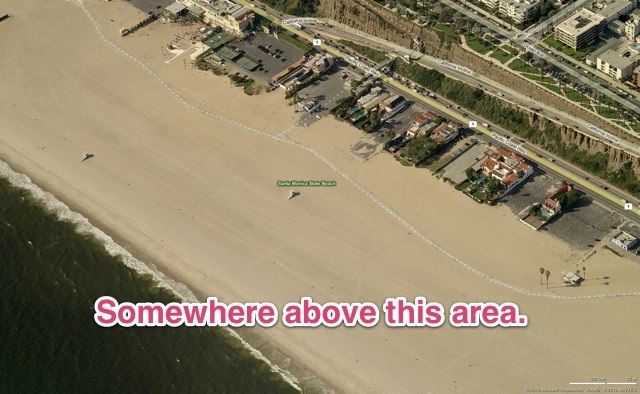 So what was it.  At this point I don't know.  It's probably fairly small.  It's not moving very fast.  So the most likely thing is some kind of human launched device such as:
Fireworks
A sky lantern, descending on fire
An RC plane or helicopter with some kind of flare, like this
A kite
Something (flare-like) descending via small parachute.
Something that looks very similar is skydivers with flares.  I don't think that's likely as people would have been able to see the parachutists land on the beach.  It's also kind of busy airspace to be parachuting in, and would have needed special permission.  It would have to be someone doing it on the sly, like base jumpers do.
That area of the beach is not that busy around dusk, it's big and empty.  There are a few houses along the front, often on short term rentals, so it's a fairly good location for someone to launch something fun into the air, and see what happens.  Maybe it was even a deliberate attempt at a UFO hoax, or maybe just someone having fun.   It's quite possible that several people saw it and were close enough to see what it was. Anyone?
One point to consider, that's the route that planes take from Santa Monica airport.  Small planes will be around 2000-3000 feet when they pass over that spot.  Maybe some prankster dropped something out of a plane, then seeing the reaction they did it again the next week.
Or perhaps it's a publicity stunt for Battle:Los Angeles 2011?  Interestingly this seems to be (nominally) about the same location used in this shot: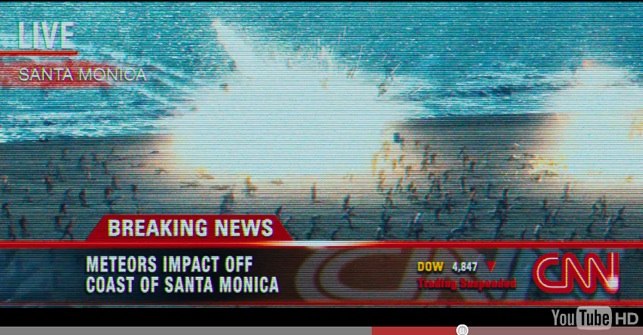 And this shot is just a bit to the south: