I took these photos around 8AM this morning, Feb 4th 2009, in Los Angeles.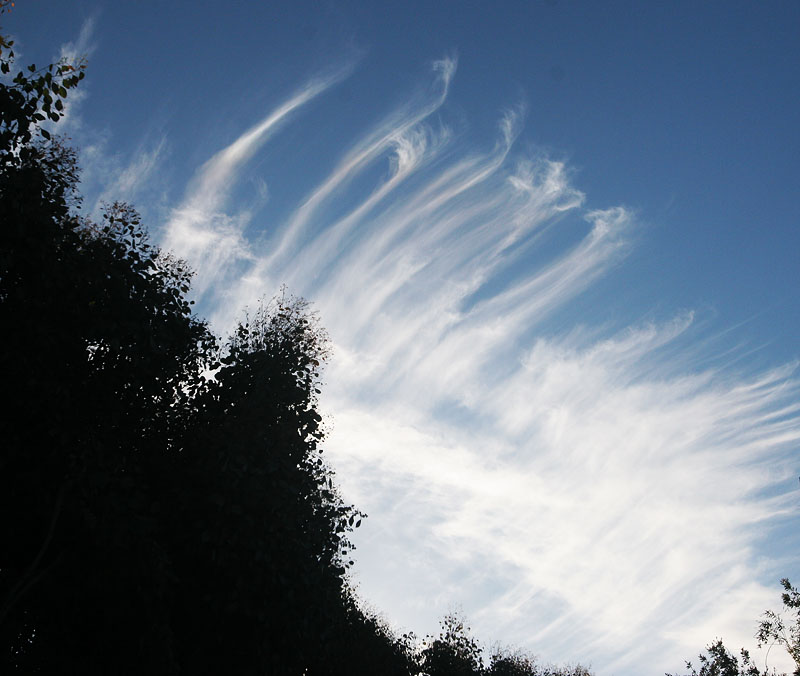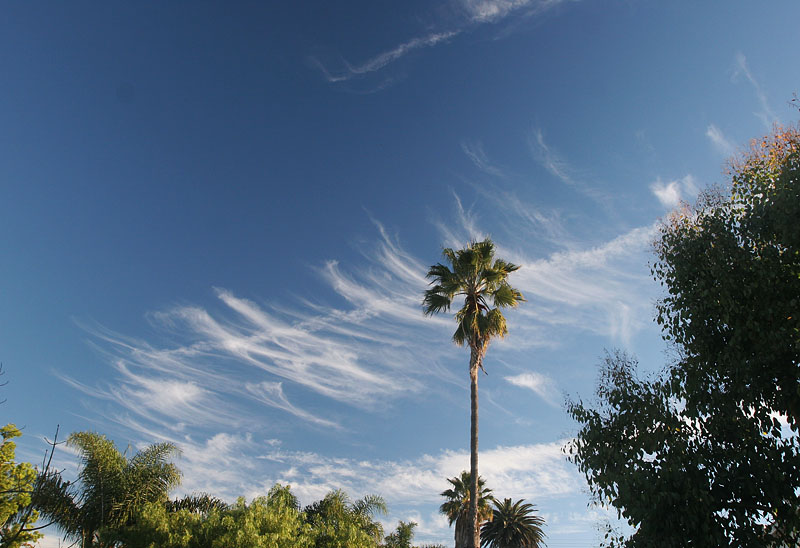 They show Cirrus Uncinus clouds, with a contrail running through them.
Cirrus uncinus clouds (or "Mares' Tails"), according to wikipedia:
Cirrus uncinus is a type of cirrus cloud. The name cirrus uncinus is derived from Latin, meaning "curly hooks". Also known as mares' tails, these clouds are generally sparse in the sky, and very thin.

The clouds occur at very high altitudes, at a temperature of about minus 40-50 degrees Celsius. They are generally seen when a warm or occluded front is approaching. They are very high in the troposphere, and generally mean that precipitation, usually rain, is approaching.
And indeed, looking at the forcast, rain is coming, predicted for tomorrow and the next three days.
The long "tails" of the cirrus uncinus clouds are actually precipitation – very high snow in the form of tiny ice crystals falling through the air.  The wind blows these sideways, giving the distinctive hook shape.
The contrail in the same region is persisting for the same reason the clouds persist – it's in a region of the atmosphere where there is moisture.  Notice the abrupt end of both the the contrail and the clouds at the left of the second photo. Contrails are a form of cirrus cloud, and if there is enough moisture in the air, a contrail will eventually spread to be indistingushable from the surrounding cirrus.  In this case though, the cirrus uncinus would have been exactly the same even if there were no contrails.