It's a lovely Friday morning here in Los Angeles. Clear blue skies, not a cloud to be seen, and no contrails either.
For that matter, there don't appear to be any planes at all. I look up into the clear deep blue sky, and I can't see a single plane. What's going on? Where have all the planes gone?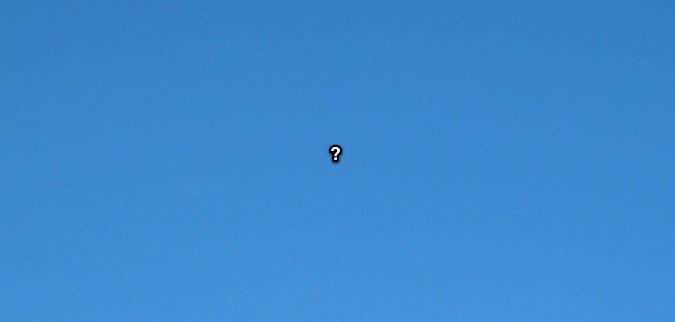 Of course the planes are still there. Airlines have pretty regular schedules, and at any given time there's going to be a few planes visible somewhere from my house.  The reasons why I'm having a hard time spotting them (I did spot one eventually) are several, but it boils down to this:
High altitude planes are very hard to spot on a cloudless sky with no contrails.
I'll briefly list the reasons, then go into each one in more detail
Empty Field Myopia – The eye, when looking at a featureless field of vision, will focus just a few feet in front of you, so the planes will be out of focus.
Saccadic Masking – When your eye moves from one point to another, you don't see anything while the eye is in motion.
Small Planes, Big Sky – a plane is about 1/100th to 1/10,000 the size of a contrail, making it proportionally harder to spot.
Invisible planes – Atmospheric conditions and the color of the planes can make some planes blend in with the sky so well that they are essentially invisible, or very indistinct.
1. Empty Field Myopia
Empty Field Myopia sounds complicated, but it's really simple. "Myopia" is short-sightedness, but this is not something wrong with your eyes – this is something that happens to everyone.
If your eyes have nothing to focus on, then they relax, so they are just focussed a few feet in front of you. This averages less than three feet.  This could happen with any empty field of vision, but really only affects us when we are looking for planes. Thus if you search for "empty field myopia" you mostly see it discussed on pilot education web sites. But it's also specifically an issue for ground-based plane spotters. Back around WWII, when visual plane spotting was a vital part of national defense, much study was made of the factors enabling people to spot planes.
See this 1954 Navy report:
http://www.dtic.mil/cgi-bin/GetTRDoc?AD=ADA073025&Location=U2&doc=GetTRDoc.pdf

So in a clear blue sky, then the furthest distance at which you can pick out a plane is reduced by half. That means if you could normally see planes up to 60,000 feet when they left contrails, or there were clouds, then you'd only be able to see planes up to 30,000 feet on a clear blue sky with no contrails forming. That would probably eliminate 90% of the contrail forming planes right there.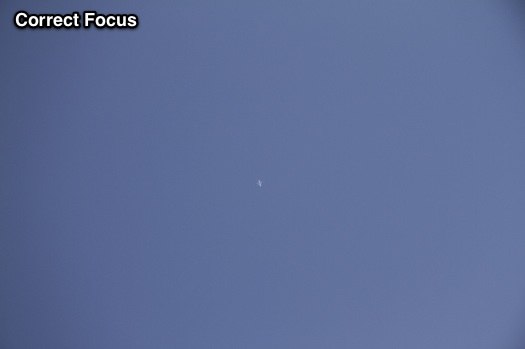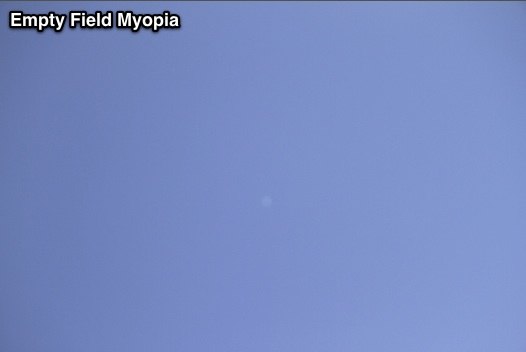 2. Saccadic Masking
Look in the mirror at your eyes. Look from the left eye to the right eye and back again. Notice that you don't see your eyes move.
Now repeat the experiment, either by having someone else look back and forth between your eyes, while you watch them or by filming yourself looking left and right.
Why can't you see your eyes move? It's because while your eyes are moving, your brain ignores all the information coming from your eyes, and instead blends the starting image with the ending image. You are essentially blind while your eyes are moving, but your brain glosses over this fact – much like it glosses over the huge blind spot we all have in both eyes.
What this means for plane spotters if that if you look from one region of the sky to another, you'll miss anything in-between.  Pilots are taught to counteract this with systematic visual scanning – looking at one region of the sky at a time in a regular grid pattern. Making sure your eyes stop long enough in each region so you can actually see it.
You physically cannot smoothly look around the sky without stopping, even if you are not aware of it. This can be demonstrated with another experiment.  Watch someone's eyes while they: A) follow your finger as it draws a wide (3 foot) circle in front of them, then B) attempt to smoothly move their eyes around the same circle without your finger (again you can do this experiment yourself with a video camera). In every case without the finger to focus on, the eye will jerk wildly around the circle, often jumping over huge gaps – which will then be invisible to the brain.
The bottom line here is that you can't just look up at the sky, look around, and declare it empty of aircraft. You need to systematically divide it up as recommended by the FAA:
The FAA and other organizations recommend a systematic visual search scan for traffic in which the pilot fixates at a location for at least one second, then shifts gaze no more than 10 degrees in order to sequentially scan the entire the visual field outside the window
That's 36 regions to get a full 360-degree view, and then if we take the vertical component as well, dividing the rest of the sky into similarly size regions, that's around 180 areas of the sky at ten-degree separation.  So to ensure you don't miss anything, you need to spend three minutes systematically focussing one-second one each of 180 distinct regions of the sky.  Practically impossible not to miss several planes.
Of course, if there were contrails, you'd see the plane pretty much straight away.
3. Small Planes, Big Sky
The bigger something is, the easier it is to spot. There's not much more to say about this, but next time you see a contrail being formed, consider how big the plane is relative to the contrail. Even the smallest contrail is ten times as large as the plane, which makes it ten times as easy to spot.  A persistent contrail, especially one at some distance, can easily be a hundred to a thousand times the size of the plane. This makes it a hundred or a thousand times easier to spot.
The contrail below is at least 100 times as big as the plane that left it (the plane is just barely visible as a little grey dot ahead of the contrail). And this contrail is not even a persistent one.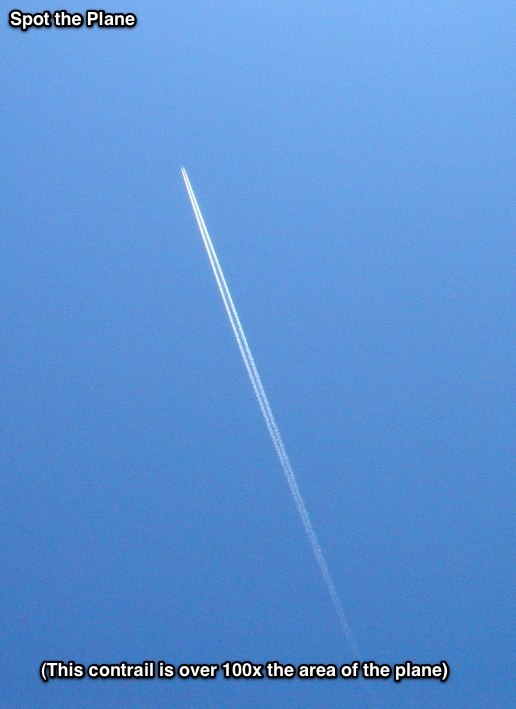 4. Invisible Planes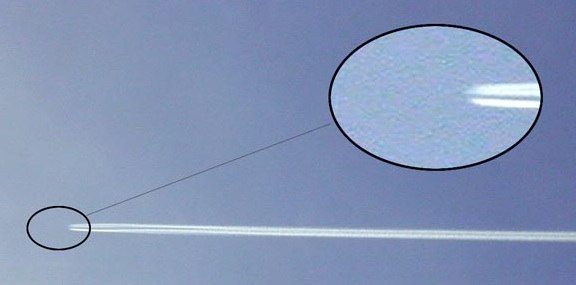 The smaller, higher and grayer a plane is, the harder it is to see. In many cases you can see the contrail, but you can't see the plane at all as it blends in with the sky. This is especially true if the sky is slightly hazy, of if there's some low cloud layer. The plane is, of course, not actually invisible, just very hard to make out. The bright white contrail is the only thing that lets you know the plane is there, unless you look very very closely.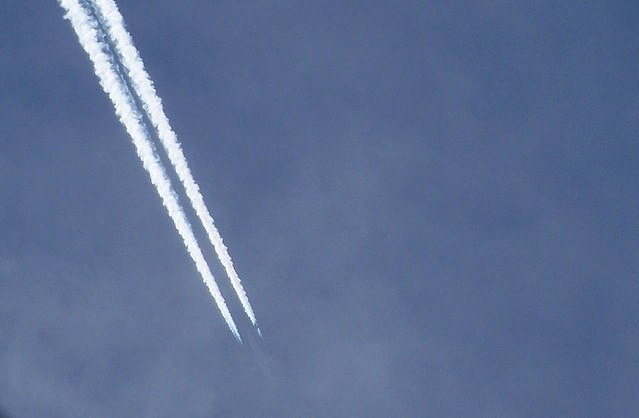 So where have all the planes gone? Nowhere. They are still there, flying overhead in just the same proportion as normal. They are just very hard to spot when not leaving contrails, and especially so when the sky does not have any clouds.