Here's a contrail you don't see every day: the racetrack contrail (or, as I like to call this one, the paperclip contrail)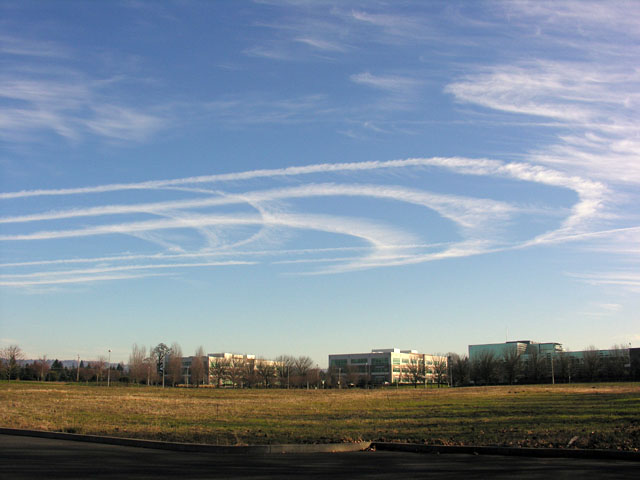 This photo was taken near Portland, Oregon on December 11th, 2005, at around 11AM.
So why would a plane be flying in this unusual pattern? Well, it turns out it's not really very unusual. It's called a "holding pattern", and it's a very specific pattern that planes fly in when they need to hold their position. Holding patterns have this very distinctive shape because the aircraft have to fly them in a very particular way that takes exactly four minutes to complete, so the ATC can know where they are, and when they will be facing in a particular direction. They fly straight for a minute, then turn 180 degrees over a minute, and then fly straight again. It looks like this: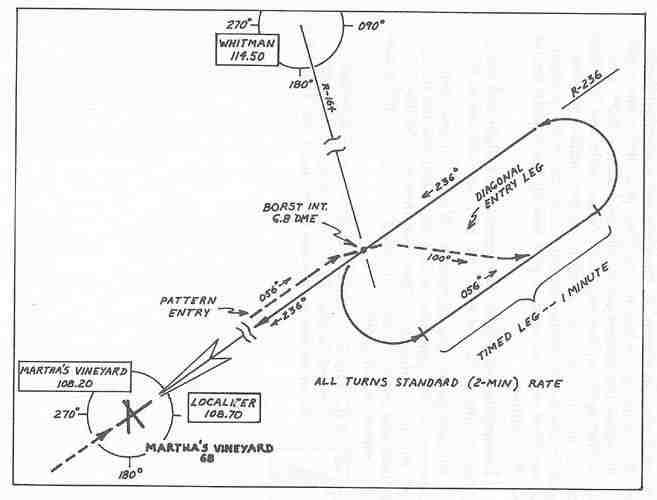 For passenger jets, holding patterns are most common on the approach to busy airports (the one above is for Martha's Vineyard), and it's not too uncommon to make a few turns in a holding pattern shortly before landing. The contrails in the above photo is probably not this, as it's at too high an altitude. Passenger jets do sometimes enter high altitude holdings (I've been in one once as a passenger), which could account for this.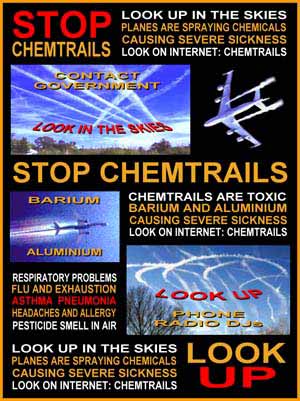 High altitude holds are also used by refueling tankers, as they wait for the planes they are going to refuel. Pilots obviously also have to train to fly in high altitude holds, and given the number of turns above, that's the most likely explanation for this particular photo.
Remember the winds at altitude are typical around 50-100mph, so after the four minutes loop, the previous contrail could be blown around five miles away, giving the illusion that the plane is now holding over a different area. It's not. The plane is playing over the same area, but the contrails have moved.
Of course, if you don't know this, it might look a bit odd to you. Some people work these racetrack contrails into the "chemtrails" conspiracy theory. Look at this poster on the right. There's a photo of a racetrack contrail with five turns, separated and distorted by the wind. Overlaid is the text "Look up, Phone Radio DJs".
These racetrack contrails are pretty rare (unless you live near a training area), but hopefully now if you see one, you'll be able to tell what is going on, and not feel the urge to call a DJ.
[BTW, the plane in the upper right of the poster is a Boeing E-6 Tacamo, dumping fuel]
[Update Oct 2011] This video shows one situation that can lead to racetrack contrails. If an airport, even hundred of miles away, is experiencing delays, then the incoming traffic might get put into a holding pattern.