Contrails are a common sight now, but prior to the advent of commercial jet travel in the late 50s, there was little reason for planes to fly high enough to form contrails.  However, during the Second World War, high altitude aerial dogfights over the UK were quite common.  Contrails in the clear blue sky were a common part of wartime Britain.
This excerpt from a Pathe newsreel shows this quite clearly.   It's a piece about a nice little English village called Meopham – which is in Kent, between London and the bombers.   The shots of the contrails are between pretty pastoral scenes, and puppies playing with kittens.
There are two shots of the same contrails. Interesting because you can see that the trails have persisted and drifted to the right. Judging by the amount of change, probably over 20 minutes. You can also see a new contrail being formed.
These contrails look a bit odd, fragmented. We are used to seeing contrails that are long and straight. But the contrails in the film were formed by actual fighter planes, where the pilots were trying to kill each other. Hence they would be climbing and diving, twisting and turning in an attempt to out-maneuver each other. The contrails would start and stop as they climbed in and out of contrail altitude.
While these few contrails are interesting enough, it was just a skirmish on the way to where the real action was taking place:  London, where the dogfights must have been incredible, leaving a criss-crossing web of trails: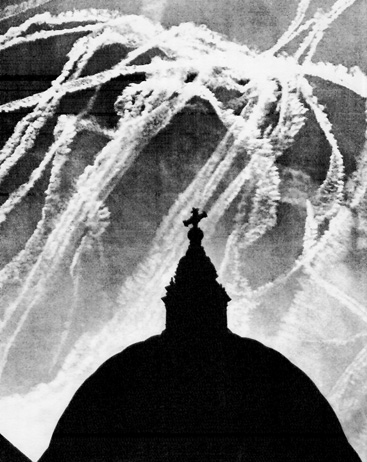 The above photos show dogfights during the Battle of Britain in 1940.  The German bombers were accompanied by fighter planes which would try to defend the bombers from the British fighters.   They were at a high altitude to avoid anti-aircraft fire.  Hence you get these amazing patterns of contrails which tell a tale of life and death at 28,000 feet above London.
The British won the Battle of Britain by 1941, establishing control of the airspace, moving the battle to Europe.  This did not end the contrails but brought a certain order to them.   Bombers departing for Europe would climb to cruising altitude before crossing the channel, and this created another kind of story in the sky: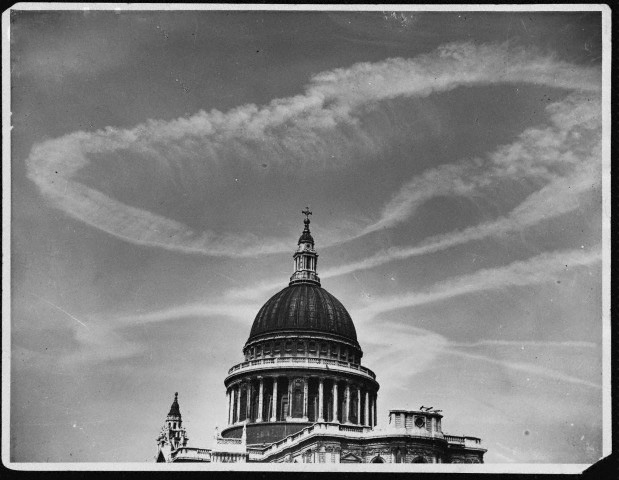 The above photo shows St Paul's Cathedral in London, with departing bomber contrails behind it.  This is probably the best photo of a persistent WWII contrail, showing the trail spreading and dropping "mares tails", exactly like modern contrails sometimes do.  It's such a good photo you might think it's a fake, but the original came from the Hulton-Deutsch Collection and can be found in the Corbis photo library as part a retrospective titled "V-1 "Buzz Bombs".
Here's another book with contrail photos from 1945:
https://youtube.com/watch?v=KH_f9dkmjzU
Here's some American newsreel footage of contrails at the Battle of the Bulge, 1945: