The Wright Brother's first achieved powered flight in 1903. They only got a few feet off the ground, so of course did not leave a contrail. However it was barely more than a decade before planes inched into colder air, and the first reports began.
The earliest known account of a contrail is a passing mention attributed to Ettenreich, who in 1919 reported of an incident from 1915 where he saw "the condensation of a cumulus stripe from the exhaust gases of an aircraft"
In a fascinating article: Wakes of war: contrails and the rise of air power, 1918-1945 Part I–early sightings and preliminary explanations, 1918-1938, (Air Power History. 54.2 (Summer 2007): 16(16).), Donald R. Baucom give an account of the rise of high altitude flight, and the inevitable accounts of contrails, both persistent and otherwise, that occurred during that time. In the autumn of 1918, in an account of Captain Ward S. Wells, Army Medical Corps, who was serving with the 60th Infantry, 5th Division, American Expeditionary Force, during the Meuse-Argonne campaign.
Our attention was first drawn to the sky by the sudden appearance of several strange and startling clouds–long, graceful, looping ribbons of white. These were tapering to a point at one end and at the other where they dissolved into nothingness 60 degrees across the sky, were about as broad as the width of a finger held arm's distance from the eye. On close observation we noticed some distance ahead of each cloud point the tiny speck of a chasse [sic] plane…. [N]ever before had I seen a plane writing in white upon the blue slate of sky.
This is very interesting, as it's the earliest known account of contrails (note that these are non-persistent). It was also very novel and interesting at the time, and was reported in a letter to Scientific American, ("Clouds formed by Airplanes", Jun 7, 1919, p 601) by Wells' brother, Everett Wells, and provoked some discussion of what might be forming these clouds.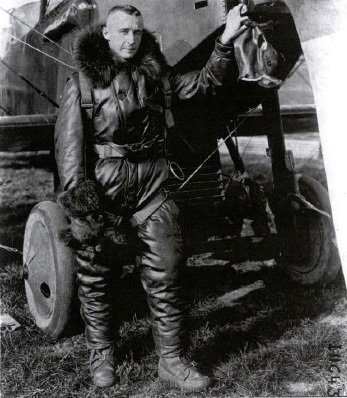 The earliest report of both a persistent spreading contrail, with gaps, and a distrail comes very shortly after, in 1921, in the US. Air Service Newsletter.
An altitude flight was made in the morning at McCook Field recently by Lieut. J. A. Macready in a La Pere with supercharged Liberty [engine]. When the airplane reached a height of 26,000-27,000 feet at 11:50 a.m., a long feathery white streamer was observed forming behind a rapidly moving dark speck. The cloud was of the cirrus variety, well defined at the edges and apparently 10 to 15 times the width of the plane. The sky behind the first portion was clear blue with no clouds in the near neighborhood. The first streamer seemed perhaps 2 miles long. Then a gap of one-quarter mile. The second streamer formed with a background of light cirrus cloud and after 2 or 3 miles the plane seemed to go into the cirrus background, for the streamer formation ceased while an apparent path of blue continued beyond for a way in the cirrus cloud. The whole streamer may have been 3 miles long. After 20 minutes the streamer had drifted and spread until it merged indistinguishably with the other cirrus clouds visible.
Both these accounts were reprinted in the June 1921 Monthly Weather Review, in the article The Argonne Battle Cloud, which also includes an account from Captain W. H. Nead, that includes an account of iridescence in the trails:
The Rainbow Division, on the morning of October 10, 1918, was lying in what had at one time been a wood just back of Montfaucon. The sky was clear except for a few fleecy clouds to the northwest. Three airmen came from the northwest and passed almost over our regiment, continuing on to the southeast.
Behind each machine was a trail of white, which at first sight appeared to be smoke resulting from poor engine combustion, but which upon more careful observation proved too wide to have been caused by smoke. Perhaps the strangest thing of all was the fact that when the planes reached a certain point in the sky the rainbow (sundog) colors became distinctly visible.
And even back in 1921, the mysteries of contrail formation were not too difficult to discern:
The end products of complete combustion of gasoline are water vapor
and carbon dioxide, and it is found that if the water vapor were condensed,
there would result a little more than 1 gallon of water per
gallon of gasoline consumed. It was found by Wells and Thuras, in
studying the fog off the Newfoundland coast (see U. S. Coast Guard ,
Bull. 5, 1916) that there were 1,200 water droplets of diameter 0.01 mm.
in a cubic centimeter of air in a dense fog. If we assume that an airplane
travels 3 miles on a gallon of gasoline (approximately the figure
given by the Aerial Mail Service) it is possible to show that if only a
small part – a fourth or fifth – of the water vapor were condensed,
there would be abundant cloud to produce the effect observed at the
Argonne Battle. It should be stated, however, that this water vapor
would have to be discharged into air which was very cold and nearly
saturated. This seems to be the correct explanation, and is substantiated
by scientists at the Bureau of Standards, who say that they have
actually observed this cloud behind airplanes and automobiles. The
Bureau of Standards is working on a device for condensing and using
this water aboard dirigibles as ballast.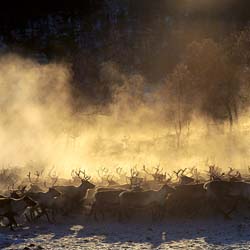 The weather review goes on to discuss how vapor trails (contrails) can form at low altitudes, even down to the ground, if it is cold and damp enough. They even give examples I'd never heard of, contrails formed by a horse, and a herd of reindeer:
A horse, warm from running over the ice, on a cold day in Greenland, was accompanied by a cloud 50 meters in height formed from its breath. Von Hann gives a similar case regarding a herd of reindeer. The human breath also has been seen to transform itself into small clouds of ice needles.