The trails that aircraft leave in the sky are called "contrails", which is short for "condensation trails". They are formed by the condensation of the water vapor in the aircraft exhaust.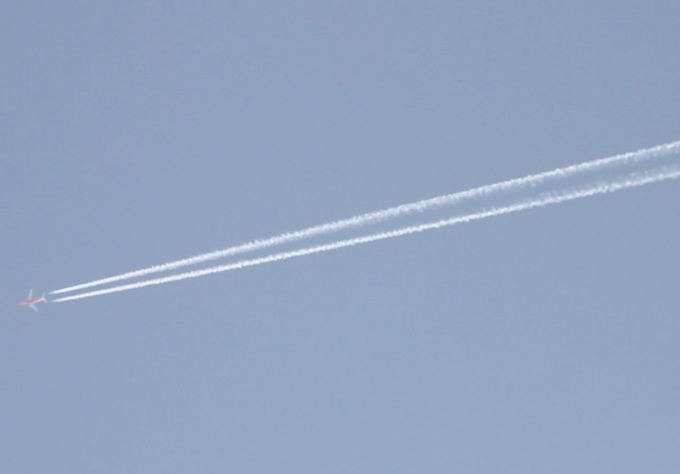 When you breathe out on a cold day, you see a little cloud of condensation form from your breath. This is the same kind of thing, your damp warm lungs add moisture to the air, and when you breathe out, you get condensation.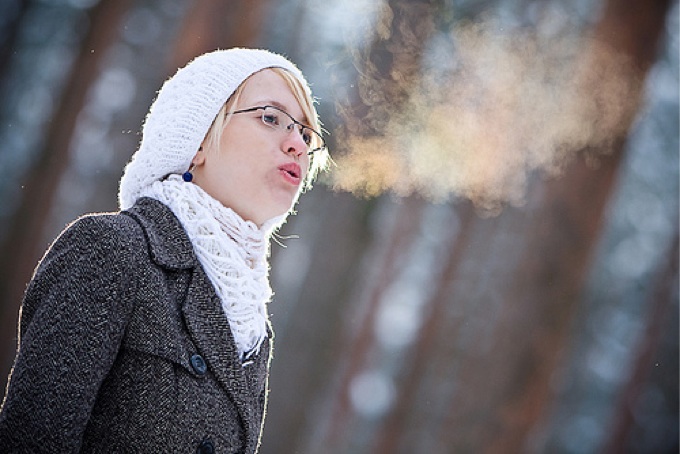 But the condensation from your breath quickly evaporates, usually in less than a second. Condensation trails from a jet can last for many minutes, even for hours sometimes. So why is there this difference? Why do jet contrails sometimes persist, but your breath condensation quickly evaporates?
The difference is because a contrail freezes.
It's really that simple. Contrails form at -40 degrees Fahrenheit (which is also -40 Celsius), or colder. At that temperature, the tiny drops of condensed water will instantly freeze. Once frozen they can not evaporate. They also can't melt, as it's -40. They can, however, fade away through a process known as "sublimation" – where a solid turns into a gas.
You've seen sublimation before. Dry Ice is frozen carbon dioxide. It does not melt, it just sublimes directly into the gas. If you take a bit of dry ice, and just leave it in the sun, it will just kind of fade away. That's what happens to the ice in a contrail.
Ice will only sublime if the humidity (at that altitude) is lower than around 60% to 70%. So if it's a bit higher then the contrail can last for a long time, just like clouds do sometimes. If the humidity is low, then the sublimation happens very fast, and the contrail only lasts a minute or so. If the humidity is high (above 70%) then you get reverse sublimation (also called desublimation or deposition, where water vapor turns directly to ice, but only when in contact with ice), and even more ice will form on the frozen condensation, the ice crystals will get bigger, and sink faster, causing the trail to spread out as it sinks through altitudes with different wind speeds.
So, the difference can be summed up as:
Contrail = Condensation + Freezing + Sublimation
Breath = Condensation + Evaporation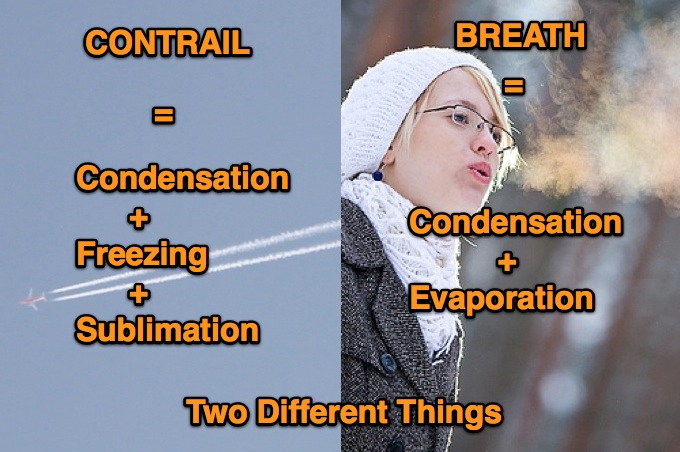 This isn't really a property of your breath though, it's a property of temperature. It you breath out at -40 degrees or colder, then your breath will freeze, and it will not evaporate. Instead of a little cloud that quickly evaporates, your breath at -40 degrees will look like smoke. Like these guys in Siberia, at -52C, you can't tell the difference between their breath, and cigarette smoke.
Note: when we say a contrail freezes we are generally talking about an exhaust contrail – from the engine. There's another type of contrail that's the aerodynamic contrail you sometimes see when a plane is landing, streaming from the wing tips or flaps. That's actually liquid water condensation, like your breath, and that's why it quickly vanishes.