Brief Summary:
Samples of water were collected in August 2007, in Stamps Arkansas, by leaving some bowls outside for a month
The resultant dirty water was tested by KSLA and was found to have the same amount of barium in it as most municipal tap water.
The reporter misunderstood the results, and said there was a lot of Barium
The reporter now admits he was mistaken, and that he found no evidence for chemtrails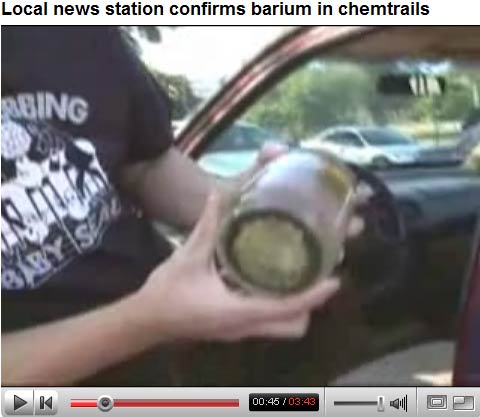 Some conspiracy theorists think that persistent spreading contrails indicate some kind of deliberate aerial spraying, probably by the government. They speculate as to what could be in these trails, and one of the most common things they claim is barium.
Some people are so obsessed by this idea that they have rainwater tested to see if it has barium in it. They usually find some, and then trumpet this as evidence that their theory is correct.
Unfortunately they are wrong. I'll explain why, but first, some basic science.
What is Barium?
Barium is a metal, like calcium. You never find it in its metal form (outside of a lab), as it oxidizes rapidly in the air. Instead you'll find compounds, usually barium sulfate or barium carbonate. Barium compounds are used in the plastics, rubber, electronics and textile industries, in ceramic glazes and enamels, in glass-making, brick-making and paper-making, as a lubricant additive, in pharmaceuticals and cosmetics, in case-hardening of steel and in the oil and gas industry as a wetting agent for drilling mud. Barium in water comes primarily from natural sources as it is present as a trace element in both igneous and sedimentary rocks. Barium is generally present in air in particulate form as a result of industrial emissions, particularly from combustion of coal and diesel oil and waste incineration.
µ and Parts Per …
When you measure the concentration of a substance in water, you can express it in various ways. You have to pay attention to units when converting from one way to another.
A liter of water weighs 1 kilogram, which is 1000 grams.
A milligram is 1/1000th (a thousandth) of a gram. 1mg = 1 milligram = 0.001g
A microgram is 1/1000000 (a millionth) of a gram. 1ug = 1µg = 1 microgram
Note that last line, because it's important. The symbol µ is the greek letter "mu". In measuring, it's used to mean "micro", or "millionth". (To type µ, hold down the Alt key, type 230 on the numeric keypad, and then release the Alt key). Since it's difficult to type, it's often written using the letter "u". Make sure you understand the difference between a milligram (mg, 1/1000th or a gram) and a microgram (µg, ug, 1/1000000th of a gram). A milligram is thousandth, not a millionth. It's a little confusing sometimes.
A microgram is a millionth of a gram, so it's a billionth of a kilogram. Since there are 1000 grams in a kilogram, and 1,000,000 micrograms in a gram, there are 1,000,000,000 µg in a kilogram. All this is basic high school science.
Concentration in water is measured as ppm, ppb, g/L, mg/L, µg/L. These are parts per million, parts per billion, grams per liter, milligrams per liter and micrograms per liter. We can convert between these easily:
1 ppm = 1 mg/L = 1000 ppb = 1000 µg/L
1 ppb = 1 µg/L = 0.001 ppm = 0.001 mg/L
(remember that 1 Liter is 1000 grams, so 1 mg in one liter is a thousandth of a gram in one thousand grams, or 1 part in a million).
Chemtrail claims
This video is very popular right now. Claiming that water was analyzed and found to have barium in it.
http://www.youtube.com/watch?v=okB-489l6MI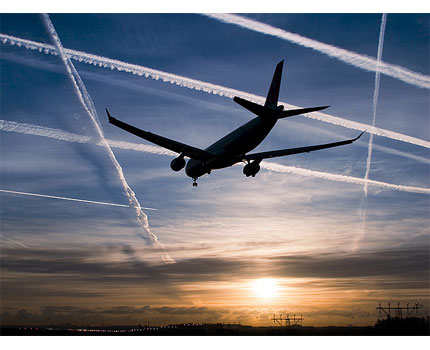 The video was taken in Stamps, Arkansas, which is not entirely surprising as that's in a region of the US the might be renamed "Contrail Alley". It's at the intersection of the cross country routes between the West Coast, and the major airport in Atlanta, Orlando and Jacksonville. Stamps is midway between the two major regional VORs (Texarkana and El Dorado), right next to the major East-West airway Victor V278, and on the edge of a MOA that traffic has to skirt occasionally. It's also directly below the Atlanta to Dallas, San Antonio to New York and Houston to Chicago flight routes. On just ONE of these routes (Atlanta to Dallas) there is a scheduled commuter flight, directly overhead, at contrail altitude every 15 minutes! The same frequency of flights is found on the Houston-Chicago route, which crosses at right angles almost exactly overhead. Hence, when the weather is right, it is inevitable that you will see contrails in a grid pattern, "a giant checkerboard". See this Google Earth file: airlines-over-stamps.kmz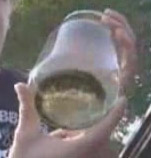 But back to the video. It shows a jar of dirty water (collected 9/1/2007), which was collected by Bill Nichols. He's posted some comments on the YouTube video describing how he collected the water:
it was rainwater. i collected it in two separate bowls on the hood of a pickup truck in my backyard. we are 25 miles from the nearest interstate. this is a very poor county, the only industry is chickens, logging , farming, a little oil—no coal burners or anything like that. i wasn't looking for attention. i was looking for answers, ksla said they would pay to get it tested. i dropped it off, and they asked my opinion

i put 2 clean bowls there specifically because i wanted to catch what was falling. i don't recall exactly when i put the bowls there, but they were there for about a month before i contacted ksla. the goo that i caught was full of barium. have a cool day!
Pause for a second, and consider if you left a bowl out for the month of August in rural Arkansas, what would you expect to find in it after a month? Some dirty water? Perhaps a little dust? What's dust made of outdoor? Dirt, dried topsoil. What would you expect to find in the dirt in Arkansas – one of the richest sources of barium in the US? You'd expect a bit of Barium – but did they actually find any more than you'd get in tap water?
This dirty water was tested, the test results are available in full here. You can also see the results in the video, at around 00:55 to 00:59. Here they are pieced together.
And just to be clear, here's a closeup of the results, and the units: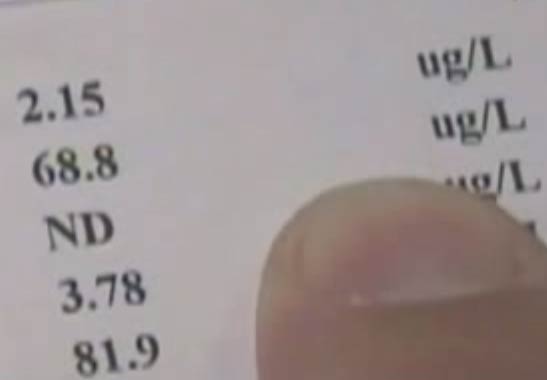 That's quite straightforward right? Barium found at 68.8 µg/L. That's 68.8 parts per billion. Now listen to the audio at that precise point (also transcribed on the KSLA web site):
"The results: a high level of barium, 6.8 parts per million (ppm), more than three times the toxic level set by the EPA".
Immediately you can see something is wrong here. it's 68.8, not 6.8, and it's not parts per million, it's parts per billion. So it's actually 0.0688 parts per million.
And what of "three times the toxic level set by the EPA"? They are referring to the EPA Limits, as quoted by the CDC:
"The EPA has set a limit of 2.0 milligrams of barium per liter of drinking water (2.0 mg/L), which is the same as 2 ppm [parts per million]."
So the EPA limit is 2 ppm (2000 µg/L), and the tests actually found 0.0688 ppm (68.8 µg/L), just 3.4% of the allowable limit.
That limit's not really a "toxic level" either. There's no evidence that it would be toxic even at that level (which, remember, is 29 times higher than what was actually found). The world health organization has set a drinking water level of 7 ppm after doing studies into the health effects of barium.
Barium has always been in water
The WHO also reported on the barium levels in drinking water (meaning, from a tap, not some dirty puddle) and they found:
"In a study of water supplies of cities in the USA, a median value of 43 μg/litre was reported; in 94% of all determinations, the concentrations found were below 100µg/litre (IPCS, 1990)"
So the average was 43 µg/L, but most were below 100µg/L. This means the amount of Barium found in this supposed chemtrail residue was about the same as was found in the municipal water supplies in the US, back in 1990. This is pretty low, it varies with geography based on the type of rocks in the aquifer. In Tuscany, Italy, the Barium in drinking water was around 1000µg/L (1ppm), high, but still within safe limits.
The amount of barium will also vary based on the weather. Very heavy rains will leach more barium out into the groundwater. So you'd expect more barium after very rainy seasons. This is actually what you find if you look at the historical records in California (which has very uneven annual rainfall). You see spikes in barium whenever there is a wet year after a dry year. Recent years like these are 1991, 1995, 1998 and 2004 (2001 and 2003 also spiked to a lesser extent). The expected peaks were confirmed by the results of Rosalind Peterson at California Skywatch.
So what's going on here? Chemtrail theorists are constantly claiming that "chemtrails" are made of barium, and that it's affecting our health. But whenever water is tested, it is found to have perfectly normal levels of barium, which vary as expected based on the rainfall. In the cases where they claim it's got an unusual amount, this is just a misunderstanding of the units and limits involved.
Yes, there is barium in the drinking water, there always has been, and always will be. Trace amounts, mostly from the environment and some industrial pollution. It's a very small amount, and not dangerous. There is no evidence to suggest it has anything to do with "chemtrails."
Update #1: 5/2/2009
Jeff Ferrall, the reporter in the story now says:
https://contrailscience.com/barium-chemtrails/comment-page-8/#comment-23164
Yes, I did make corrections to my first report, which originally aired almost 2-years ago now… after quickly realizing my very embarrassing mistake. I was not happy with myself. Unfortunately, the first version of my report got out to the internet before I could make the correction(s), and the wrong version is shown repeatedly.
…
My feeling is, and maybe you'd agree, that if such aerosol mixes were created and loaded into jets with either a separate/independent dispersal method other than the exhaust, or actually in the fuel itself… somewhere, somehow, you'd expect someone to talk. I have not heard that yet.
…
I also interviewed the scientist who originally patented what some believe was a precursor to so-called chemtrail technology. He's a very kind, helpful man who could not have been more helpful. He says he knows nothing about any such conspiracy.
There's also a mention of this story In Skeptical Enquirer magazine:
http://www.csicop.org/si/show/curious_contrails_death_from_the_sky/
Update#2: 3/14/2010
More people make the same mistake.  This time someone in Austrailia, and the story was picked up by a Los Angeles environmentalist.   Again mg is confused with µg, making the results 1000 times as high:
http://www.examiner.com/x-10438-Human-Rights-Examiner~y2010m3d13-video-White-Clouds-of-Death-Aussie-exposes-geoengineered-chemtrail-contents?#comments