I took this photo on December 16, 2007, at around noon. It's facing south from Los Angeles, California.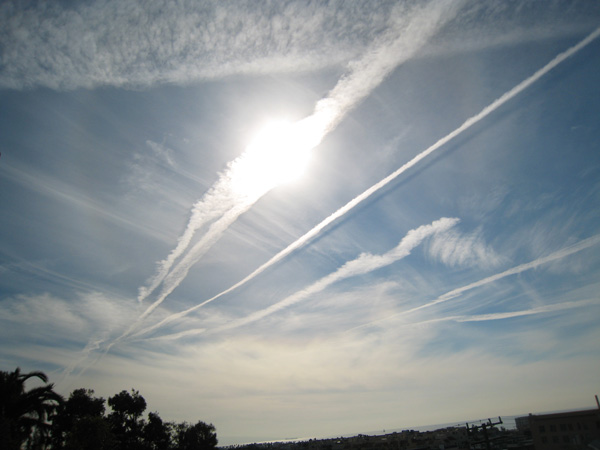 It was a particularly good day for contrails. You can see about seven in this photo. There's also a nice contrail shadow, and a halo around the sun.
I was looking at the MODIS archive of satellite photos, and realized they had one for that date, and rather luckily it seems to have been taken within an hour of the photo I took, so it shows the exact same contrails from space. LA is just a bit to the right of the center of this photo.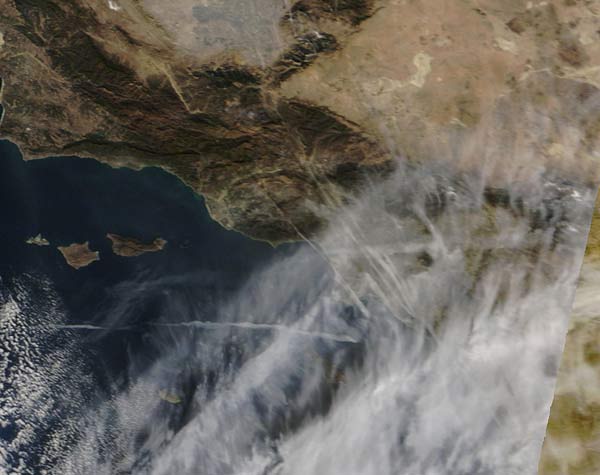 As the photos are about an hour apart, the trails have shifted and distorted a little. But you can still match them up. Here I've color coded them.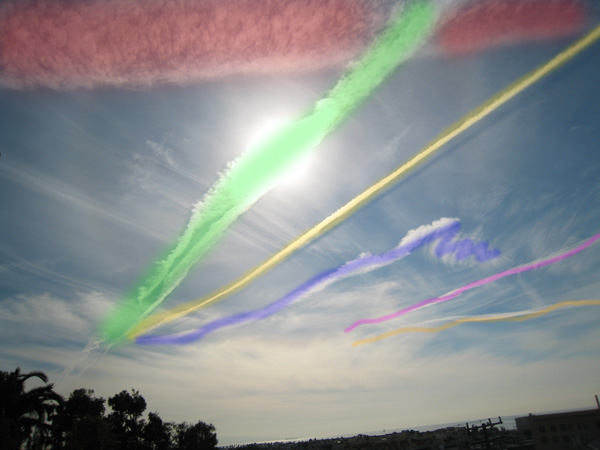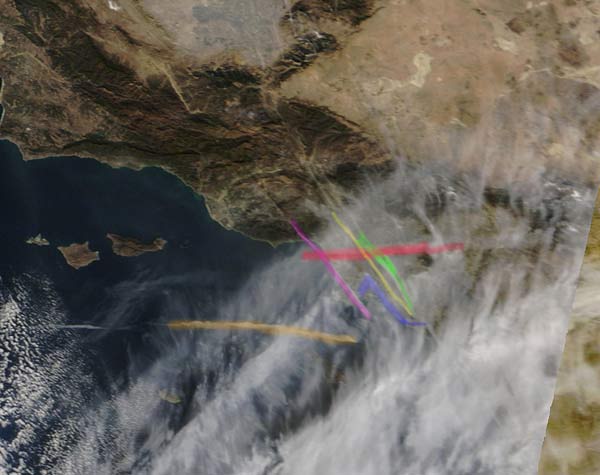 It's interesting also to look at the full size satellite photo of the area, so you can see where trails form, and where they do not form.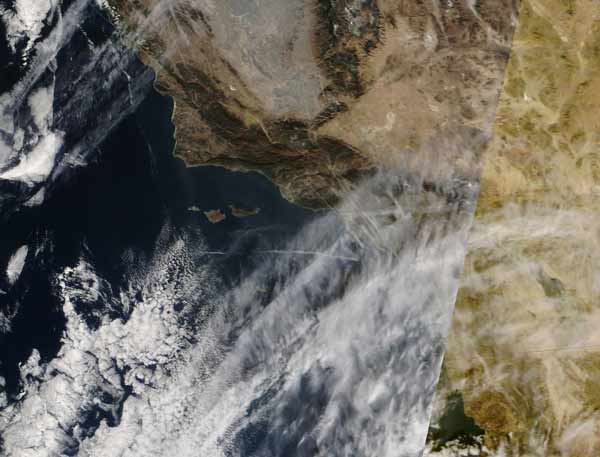 Los Angeles is in the middle of the photo. You can see the trails forming over Los Angeles, and it's quite clear from looking the the cloud bands that they are forming in an area of high humidity.
Lookin up the coast, there is a gap in the clouds, and a corresponding lack of contrails. Then in the top left corner the clouds resume, and so do the contrails. In fact you can see several much thinner trails there. Here's a close up: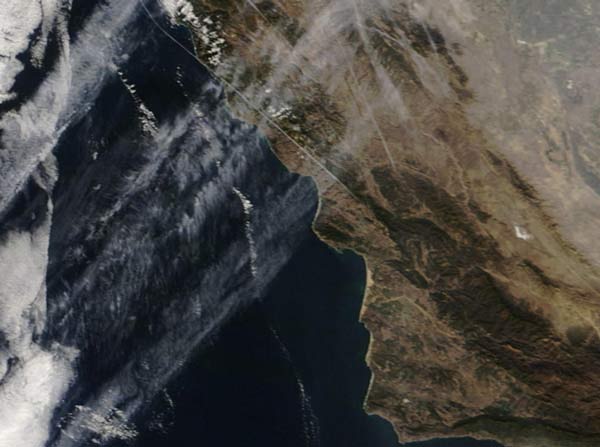 These are probably the same planes that created the trails over Los Angles, just about an hour later, as they continue to fly north. The abrupt start of the trail as it enters the moist air is very obvious here.
This is all interesting in the context of the "chemtrail" theory. You often hear the chemtrailers posting things like "heavy spraying over Los Angeles today!!!" Then there are days with "no spraying". MODIS is a wonderful resource for explaining why this perception happens. Sometimes there is a moist region of air at the right level over a particular place, and that place gets a lot of persistent contrails.
Looking at contrails from the ground only gives you a little bit of the picture. The satellite photos tell the whole story.
For example, here's a "Massive Chemtrail Assault" Youtube video, from Austin, TX, 11/15/07
http://www.youtube.com/watch?v=GXJRNnmx0h8
And here is the satellite image of the greater area from that day. Austin is on the right, towards the end of the huge sweep of clouds. It's clear that the contrails are just forming around the edges of a region of high humidity.
http://rapidfire.sci.gsfc.nasa.gov/subsets/?USA6/2007319/USA6.2007319.aqua.1km.jpg
Full Size original images here, about 1MB each:
My Photo: img_3175a.jpg
MODIS photo: aeronet_la_jolla2007350terra250m.jpg