Do contrails sometimes persist and spread out?
Yes, see the Encyclopædia Britannica article on vapour trails (contrails):
Contrail, streamer of cloud sometimes observed behind an airplane flying in clear, cold, humid air. It forms upon condensation of the water vapour produced by the combustion of fuel in the airplane engines. When the ambient relative humidity is high, the resulting ice-crystal plume may last for several hours. The trail may be distorted by the winds, and sometimes it spreads outwards to form a layer of cirrus cloud.
vapour trail. (2007). In Encyclopædia Britannica.Retrieved May 4, 2007,from Encyclopædia Britannica Online: 
(The above quote is from the current EB. However, a Google books search dates the inclusion on the EB back to 1983)
Also see "A Field Guide to the Atmosphere", by Schaefer and Day, 1981:
"Sometimes [contrails] are ephemeral and dissipate as quickly as they form; other times they persist and grow wide enough to cover a substantial portion of the sky with a sheet of cirrostratus" (Page 137)
Are spreading contrails a relatively new thing?
No, it has been exactly the same for decades, the only change has been the size of jet engines (producing bigger contrails), engine technology  (burning fuel more efficiently in high bypass jet engines creates cooler exhaust which is more likely to condense before it mixes with the surrounding air) and the amount of air traffic (producing more contrails). Spreading contrails have been mentioned consistently through the history of aviation, including in the popular press. Like Sports Illustrated , Nov 6th 1989:
https://web.archive.org/web/20100521104422/http://sportsillustrated.cnn.com/vault/article/magazine/MAG1068997/4/index.htm
Now, late in the afternoon, the hatchery explored and the fishing over for the day, Crooks points to the sky. Blue all day, it has now turned hazy. "Contrails," he says. "The haze is caused by aircraft contrails that have gotten spread out till they cover the sky. This is a major air route from the East Coast to the West."
For scientific discussion, see, for example, all these articles on contrails. In particular the one from 1970 titled "Airborne Observations of Contrail Effects on the Thermal Radiation Budget"
The spreading of jet contrails into extensive cirrus sheets is a familiar sight. Often, when persistent contrails exist from 25,000 to 40,000 ft, several long contrails increase in number and gradually merge into an almost solid interlaced sheet.
[….]
Contrail development and spreading begins in the morning hours with the start of heavy jet traffic and may extend from horizon to horizon as the air traffic peaks. Fig. 1 is a typical example of midmorning contrails that occured on 17 December 1969 northwest of Boulder. By midafternoon, sky conditions had developed into those shown in Fig. 2 an almost solid contrail sheet reported to average 500 m in depth.
Airborne Observations of Contrail Effects on the Thermal Radiation Budget
Peter M. Kuhn
Journal of the Atmospheric Sciences
Volume 27, Issue 6 (September 1970) pp. 937–942
(Click on any of the images in this article for a larger view)
Then a few years later, in 1975, we have the article : Multiple Contrail Streamers Observed by Radar, which again has photos (taken in 1971) of spreading and persisting contrails, as well as extensive discussion of these observations.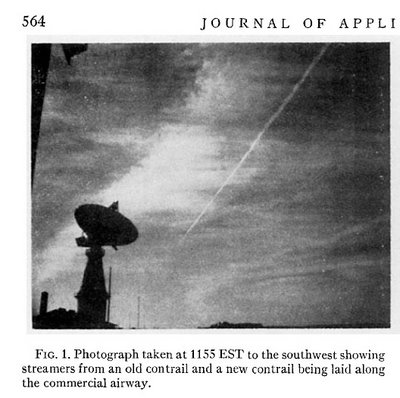 Multiple Contrail Streamers Observed by Radar.
Konrad TG, Howard JC (1974)
Journal of Applied Meteorology:
Vol. 13, No. 5 pp. 563–572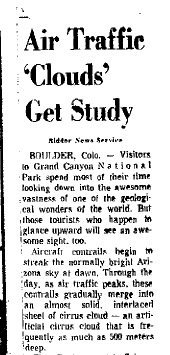 Here's a description from 1970, from a local newspaper, the Arcadia Tribune, April 29, 1970:
Aircraft contrails begin to streak the normally bright Arizona sky at dawn. Through the day, as air traffic peaks, these contrails gradually merge into and almost solid interlaced sheet of cirrus cloud – an artificial cirrus cloud that is frequently as much as 500 meters deep.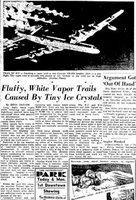 One of the earliest reference to contrails covering the sky is from the Mansfield News Journal, August 11, 1957, Page 29:
"Within the past few years, the weather bureau has begun to report the trails as actual cloud layers when there are sufficient trails to cover a portion of the sky."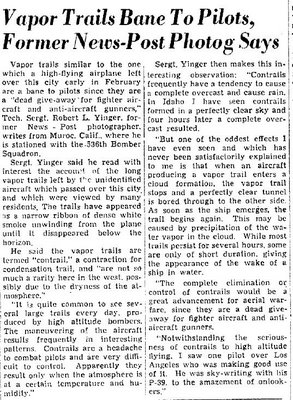 Here's a description from 1955:
http://news.google.com/newspapers?id=SosSAAAAIBAJ&sjid=pvYDAAAAIBAJ&pg=851,1486793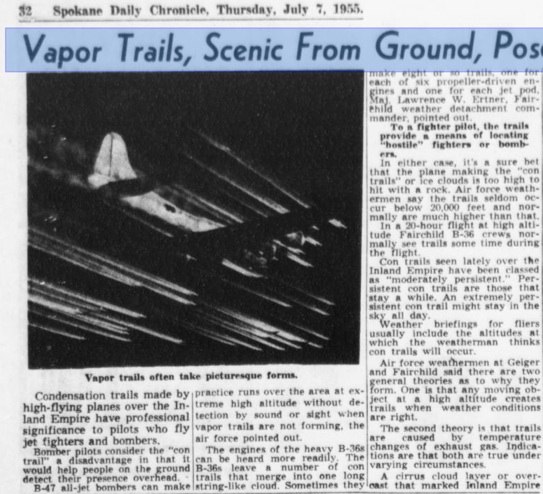 An extremely persistent con trail might stay in the sky all day
But even earlier, and with a perfect description of what "chemtrail" theorist claim cannot happen comes this account from 1944:
The News, Frederick, MD, March 7, 1944
"Contrails frequently have a tendency to cause a complete overcast and cause rain. In Idaho I have seen contrails formed in a perfectly clear sky and four hours later a complete overcast resulted"
Below is the entire top of the page of that newspaper, in case you want to look it up.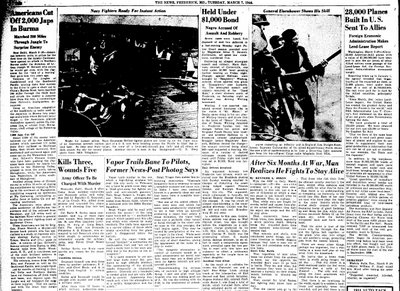 And from the book "Flight To Arras" by Antoine de Saint Exupery, written in 1942 about a military mission in 1940:
The German on the ground knows us by the pearly white scarf which every plane flying at high altitude trails behind like a bridal veil. The disturbance created by our meteoric flight crystallizes the watery vapor in the atmosphere. We unwind behind us a cirrus of icicles. If the atmospheric conditions are favorable to the formation of clouds, our wake will thicken bit by bit and become an evening cloud over the countryside.
Another from 1958