Q) How long do contrails last?
A) According to all the books on clouds in the last 70 years, contrails last anywhere from less than a second, up to several hours. If depends on the atmospheric conditions at the altitude the plane is flying. It's unrelated to the weather on the ground.
This is an oft-asked question. The answer is reasonably straightforward, but misunderstanding is common. To understand why a contrail can last as little as a fraction of a second, or as long as several hours, you need to understand what a contrail is, and how it forms.
Here's another question, which has the same answer: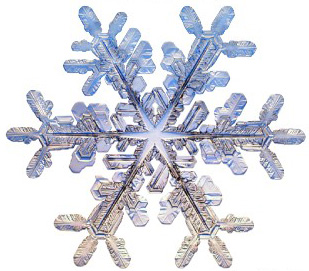 Q) How long does a snowflake last?
Why is this basically the same question? Because contrails are generally made of ice crystals. Jet exhaust contains a lot of water vapor (the chemical reaction actually produces more water than there was originally jet fuel), and when this gets shot out of the back of the engine at 2000MPH, it hits the frigid air (typically colder than -40 degrees), and the water vapor condenses and freezes, very quickly, into tiny ice crystals, just like snowflakes.
So why do these ice crystals sometimes stay around for a long time, and sometimes vanish in seconds? The temperature is well below freezing, so they can't melt, can they? This is puzzling because it involves something that most people know nothing about "sublimation".
Sublimation is when a substance (in this case, water), goes directly from being solid to being vapor (a gas), without actually melting into a liquid. It's like evaporation, except instead of a liquid evaporating, it's a solid (ice). If the air is dry (i.e. there is little water vapor in it), then the ice crystals will quickly sublimate into vapor, and the trail will vanish quickly.
However, if the air already has a lot of water vapor in it, then the ice will sublimate slower, and the trail will last longer.
If the air has so much water vapor in it already that it can't hold any more (i.e. it's "supersaturated"), then the ice crystals can't sublimate, and so the contrail will stay around for a long time. The ice crystals might even attract water from the air, if there is enough, and the contrail will get thicker. Winds might make the contrail spread out to even cover the whole sky.
The above is a simplification, as other factors like temperature, pressure, and sunlight have an effect. But it explains the basic reasons why some trails last only a few seconds, and some can last for hours, and spread out to cover the sky.
Finally, there is one more way of asking the question:
Q) How long do clouds last?
This is the same question because contrails are clouds. Contrails are physically very similar to cirrus clouds (except they are long and thin), and so they act almost exactly the same. You see cirrus clouds that last for hours, so why not contrails?
References – note the dates
"A Color Guide to clouds" from Richard Scorer & Harry Wexler, 1963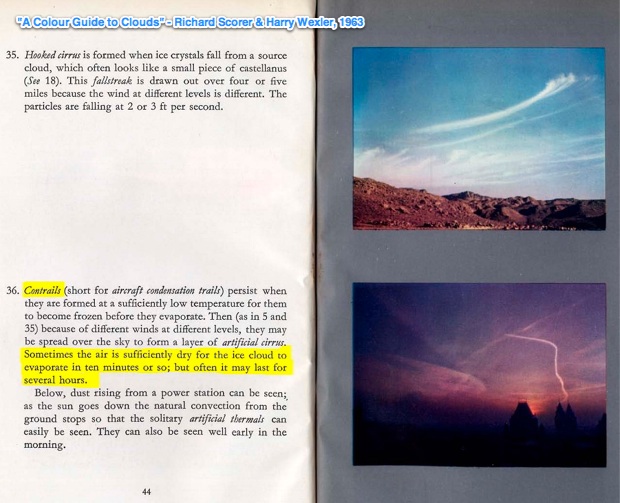 1972: Richard Scorer – "Cloud of the worlds"