I find clouds fascinating.   If I see a lenticular cloud while driving I might nearly crash the car while straining for a better view.   I've only seen mammatus clouds once in my life, and stopped to try to take a photo.  I'm quite fascinated by contrails and contrail shadows, especially the "black beam" shadows that seem to extend in front of the contrail.
Yet my fascination is not shared by the general population.  When I saw the mammatus there was nobody pointing up at the sky.    Other people on the freeway were not swerving their cars, despite the impressive black beam in front of them.   Why not?
Unfortunately, the answer is rather simple: they're just not that into clouds.
Yes, my cloud obsession is simply not shared by other people, much in the same way that I don't understand my friends interests in certain sports, or cars, or the contestents on American Idol.   They might be similarly bemused by my lack of interest in such things.  But the point here is that most people's interest in clouds is limited to A) is it sunny? and B) might it rain?
So it's hardly surprising that the gradual increase in contrails over the last 30 years has gone much without comment.   Each year the sky looks pretty much the same as last year.    But then, you get some people who, for some reason, started looking at the sky with more interest, and they noticed, for the first time, that the sky sometimes gets covered by contrails that spread out into a layer of cloud.
They then sometimes slip down a slipperly illogical slope – if they had not noticed this before, then that means it was not there before, hence it just started, and hence again it must be something deliberate.   So the "chemtrail" theory is born – these persistent contrails are actually some kind of nefarious deliberate spraying by the powers that be.
You'll note that this theory is based on one fact in the theorist's mind: "I did not notice this before".
So, if you did not notice something, and hence it did not exist until you noticed it, then what about all those people who have NOT yet noticed that contrails spread?  Do the contrails not spread for them?
The reality is that the vast majority of people simply don't pay much attention to clouds, or planes in the sky. The contrails have been there all their lives, and they might as well be noticing the type of covering used on the road outside their house, or what hairstyles the newsreaders have   For most people it's stuff that is simply there, and does not impact their lives in one way or the other.  It changes slowly over time, but day to day you don't notice any change.
Sometimes though some people notice things that others have not, and then you can get into an argument about how things are, or were.  One such argument took place in 1971 between celebrity activist Arthur Godfrey and Senator Gordon Allott, R-Colorado,  over possible effects of the then proposed supersonic transport (the SST, a high speed plane like the Concord).
One of the concerns Godfrey raised about the SST was the possibility of excessive contrail coverage.  The problem of contrails creating clouds was well known in 1971, and Godfrey was well aware of this from personal experience.  But Senator Allott was simply a person who had never noticed these spreading contrails, and hence we get the following newspaper clipping from the March 11, 1971 Missouri Mexico Ledger: (See the 4th story across at the top: "Godfrey calls SST 'Nonsense'")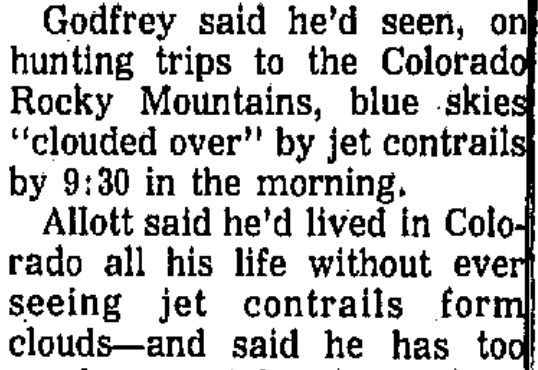 Godfrey tangled with Sen. Gordon Allott, R-Colo., when he said present jetliners are environment hazard enough without adding SSTs to the skies. Godfrey said he'd seen, on hunting trips to the Colorado Rocky Mountains, blue skies "clouded over" by jet contrails by 9:30 in the morning.

Allott said he'd lived in Colorado all his life without ever seeing jet contrails form clouds—and said he has too much respect for the environment go go on hunting trips and shoot animals.
If a US Senator failed to notice these spreading contails spreading in 1971, is it really that surprising that people still don't notice them now?  Or that people who believe in "chemtrails" are simple people who have only now, for whatever reason, taken an interest in the skies.