This photo has the largest number of contrails I've seen in a single photo: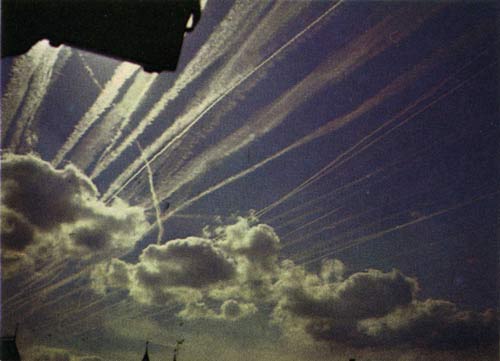 There seem to be at least 30, possibly more (click the photo for a larger verision).  What is even more remarkable is that it was taken sometime before 1967.  That's over forty years ago.
The photo is plate 113 of the book Cloud Studies in Colour, by Richard Scorer and Harry Wexler, published in 1967 by Pergamon Press.  The photo was taken by Richard Scorer, probably in England.  The accompanying text reads:
Condensation trails are left by aircraft when the air is sufficiently cold for the mixture of air and exhaust to be saturated.  This does not usually happen except when the temperature is close to or below -40C, in which case the cloud freezes almost instantaneously and does not readily evaporate.  The cloud is then spread out by any wind sheer which may be present.