[Original Post Dec 7 2010, updated Feb 13th 2011 with German contrail]
This is a remarkably common news story:  It's just after sunset, someone looks towards the west and they see the short contrail of a jet plane illuminated by the sun.  It looks red, like fire.  They zoom in with their video camera.   They don't know what it is, thinking it's a fireball, a meteor, or some kind of UFO, so they alert the local media.  The local media published it, and occasionally the story grows.
Here's one from Germany: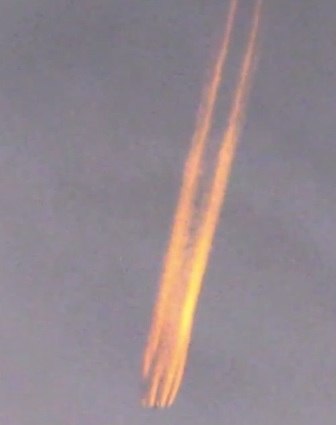 From a video that has since been removed.
The first thing to notice about this contrail is that it's all the same color – glowing from the setting sun. Hence it's not something on fire, it's just a white contrail that is lit by the setting sun.
The next is that from the poor quality video it actually looks like multiple objects. But then if you zoom in you can see it's just the plane is casting a shadow on the left contrail.

Then there's the illusion that it's dropping straight out of the sky. It's actually flying in level flight, just directly over the top of the observer. This illusion is discussed in these two posts.
http://contrailscience.com/contrails-are-usually-horizontal/
http://contrailscience.com/a-problem-of-perspective-in-the-oc-new-years-eve-contrail/
Here's one from today (Dec 7th 2010).
Raymond, 39, had been playing with his video recorder, and he got out of the apartment in time to capture whatever it was in the sky.

It looks like a double-barreled ball of fire falling toward earth.

Raymond contacted the AJC last weekend with his find and later loaned a reporter his videotape so the AJC could publish it here.
Here's what it looks like: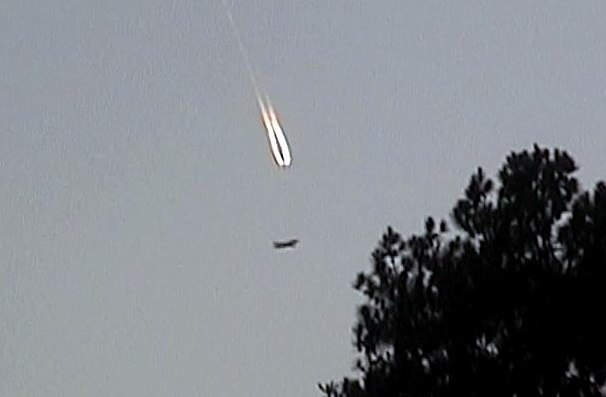 Quite obviously a contrail from a distant jet, flying away from the camera, appearing to descend towards the horizon because of the distance and the curvature of the Earth.  What's interesting about this video is that ten seconds later a new jet enters the frame: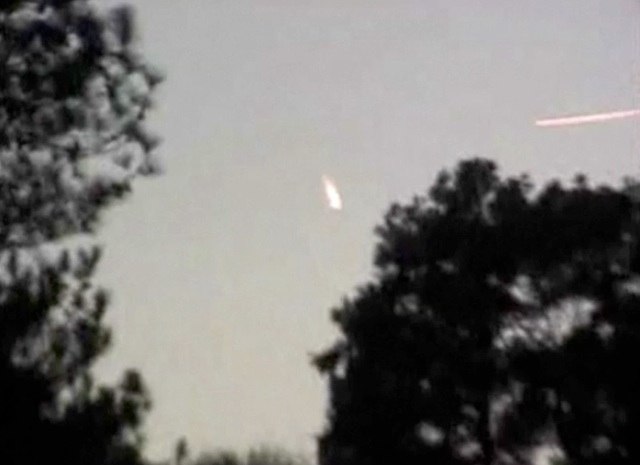 It's the exact same thing, probably even at a similar altitude.  However because it's being viewed from the side instead of edge on, it looks longer, and so people think that's a contrail, but the shorter one is not.  But that's just perpective for you.  This is what people are seeing: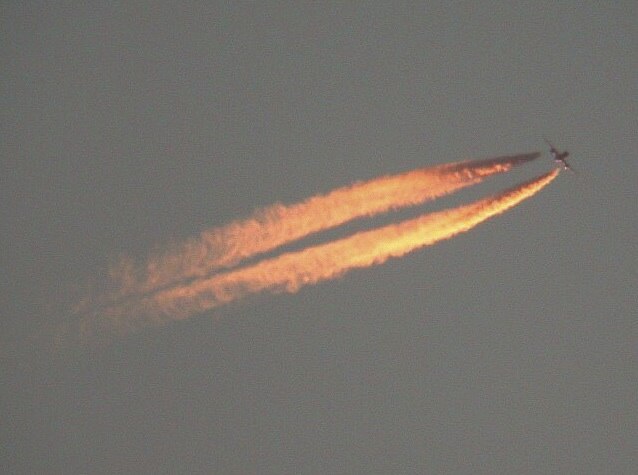 It's the contrail of a jet, viewed from an angle, illuminated by the setting sun, viewed at very high magnification.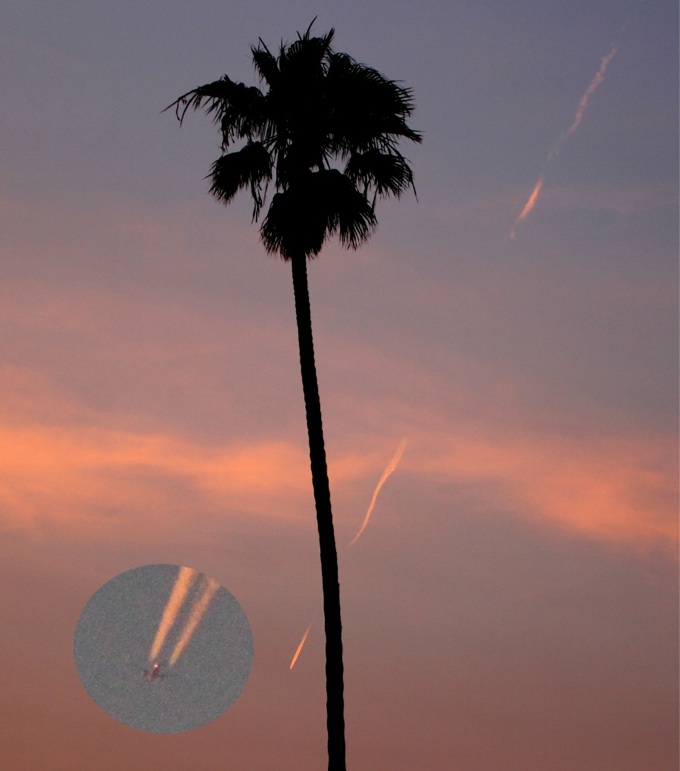 I see this a lot from Santa Monica.  Here's a video I took of several similar contrail as they are being formed.  The video is sped up twenty times.
When you zoom in, it looks like some kind of fireball, but it's just a plane.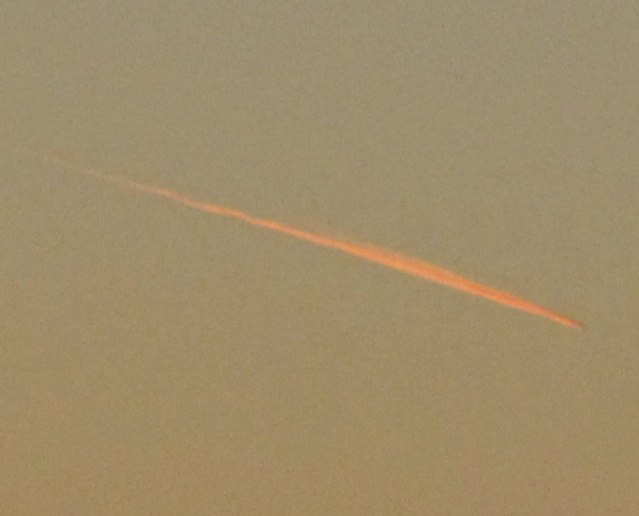 Here's another story from a while back:
Darlene Stewart said she was outside taking pictures of the sunset when she saw something fly overhead.

She snapped a picture of the object in an attempt to zoom in on it to see what it was.

"Even with the camera, I couldn't make it out until I put it on the computer," she told CBC News. "I knew then it wasn't an airplane. It was something different."

Stewart's picture shows a blurry image of what appears to be some kind of missile-like object emitting either flames or heavy smoke.
And here's the photo: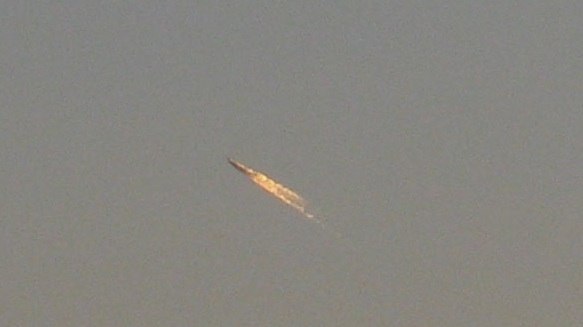 Again, it's the same thing, but this time flying towards the camera, away from the sunset. The front part of the contrail is being shadowed by the rear part (like in the third photo above), making it seem like a large solid object.  The actual plane is too small in this image to be visible.
Like the missile launch story from last month, this kind of mis-identification happens regularly, several times a year.  Here's a video from a local news station in Hawaii, with contrail that someone said was a UFO:
It's been going on for a long time, and it's not going to stop.  Short sunlit contrails just look kind of odd. They looked odd in 1950, as reported by the San Mateo Times, Jan 12th, 1950: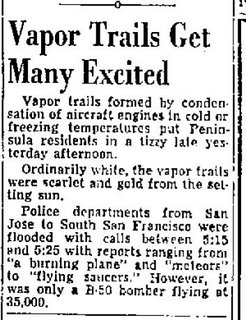 See also:
https://www.metabunk.org/threads/explained-floating-ball-of-fire-over-argentina-short-sunlit-contrail.5654/